Burnout is state of mental, physical, and emotional exhaustion.
Professional burnout rarely has one cause. Causes can include a heavy workload, mismanagement, conflict with colleagues, and lack of recognition or appreciation to name a few. Burn out can also be the result of a combination of workplace and personal stressors.
Employee burnout can lead to decreased morale, increased illnesses and absences, increased mistakes, decreases in productivity, and increases in staff turnover – all of which can negatively impact both the employee and the company.
Can employers help reduce employee burnout?
Yes, I believe that they can. In addition to creating a healthy work environment, managers and supervisors should be on the lookout for negative changes in employee behavior or productivity. Every leader should be concerned if they notice an employee becoming more irritable, disengaged, and unavailable. Once these symptoms appear, the manager should schedule a meeting to discuss the root cause, impact, and resolutions.
Here are 6 ways employers can help reduce burnout:
Get management training – Managers have a direct impact on their subordinates. A toxic manager is a leading contributor to employee burnout. Management training is a great step in providing your staff with the best leadership, support, and resources.
Manage workload – Monitor and fairly distribute the workload among your team. Do not overburden your best employees but also know when it is time to bring in additional workers to maintain quality and productivity.
Review your benefits package – Do you offer competitive pay, vacation sick, parental, or bereavement leave, host family or community events, health coverage, paid volunteer time, an employee assistance program?
Communicate regularly – Healthy workplace communication includes speaking with respect and treating everyone as equals but also entails a level of transparency that invokes trust and credibility. Employees also desire regular feedback. Providing correction with diplomacy should be coupled with appreciation and recognition of a job well-done.
Allow flexible work schedules – Flexible work schedules include varied work hours, telework options, generous leave policies.
Model appropriate boundaries – Lead by example. Leaders should also disconnect and rejuvenate by unplugging from work devices, seeking medical care and taking time off from work when sick, taking vacations, attending family events, and not overloading themselves with unrealistic
Related: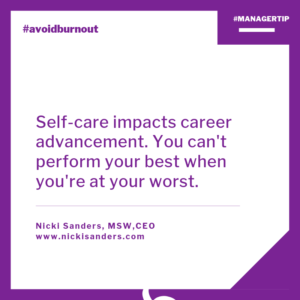 Nicki Sanders, MSW, is a Leadership and Career Strategist who helps mid and senior level women leaders develop the confidence, competence, and credibility to lead with authenticity and boldness. She has an extensive background in leading multi-disciplinary teams, developing and managing programs, and forming public-private partnerships. She is a college professor with a passion for teaching and mentoring the next generation of leaders. Nicki is an accomplished supervisor, trainer, and group facilitator who has merged her Master of Social Work degree and over 20 years of diverse work experience into a thriving business. Nicki Sanders Leadership Consulting assists companies in expanding their influence and impact by enhancing employee recruitment, increasing employee morale and performance, and decreasing employee turnover.  Nicki is a travel and cupcake lover who also enjoys reading, listening to music, and serving her community.