Self-care is the intentional activities that we do to take care of our mental, emotional, spiritual, and physical health. Quality self-care can improve thinking and decision making and reduce anxiety and overwhelm. Self-care allows you to strengthen your relationship with yourself and with those with whom you spend time. Self=care is more than Monday night football at the local sports bar or a manicure/pedicure at your local salon. Remember that self-care is not any activity or event that causes added stress or that you do not enjoy.
Many parts of our jobs can be stressful. Professional burnout is a special type of work-related stress. Burnout is more than a stressful day or a bad week. Burnout is defined as a state of constant physical and/or emotional exhaustion that also involves a sense of reduced accomplishment and loss of personal identity. Symptoms of burnout can include anxiety, fatigue, loss of appetite, illness, physical symptoms such as headaches or shortness of breath, pessimism, sarcasm, irritability, absenteeism, hopelessness, decreased productivity and detachment.
As a manager, you are tasked with ensuring that your team has the capacity to perform their assigned duties to the best of their abilities. It is important that you are knowledgeable of the signs of professional burnout and that you are connected enough to your team to notice any warning signs that may appear in them.
If or when you recognize warning signs or symptoms of burnout in your team, do not ignore them. Seek to learn the root causes, evaluate the issues, and develop and implement a strategy to reverse or eliminate burnout. The first thing you want to determine is whether this is a problem for an individual employee or an organizational issue which may negatively affect other employees as well.
Ways to address employee burnout:
Have a dialogue with the impacted employee or employees
Identify what motivates and what worries your team
Be clear and consistent in your expectations
Acknowledge and show appreciation for good work
Provide regular feedback
Monitor workloads and reassign or diversity work as needed
Schedule team building activities
Encourage work-life balance (vacations, etc.)
Promote self-care
Keep the lines of communication open
Encourage professional development
Be supportive and offer outside support/resources as needed
Related:
15 Warning Signs of Professional Burnout
Self-Care Is A Universal Challenge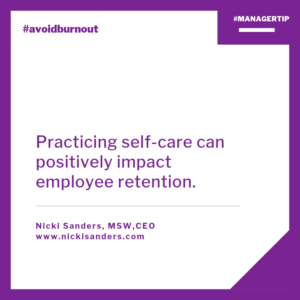 Nicki Sanders, MSW, is a travel and cupcake lover with a passion for self-discovery and career advancement. She has an extensive background in developing and managing interns and successful internship programs. She is an accomplished supervisor, professor, coach, trainer, and group facilitator who has merged her Master of Social Work degree and 20 years of diverse work experience into a thriving business. Nicki Sanders Consulting helps businesses increase employee recruitment and retention and helps managers uplevel their leadership skills.
© 2019 Copyright Protected. ALL RIGHTS ARE RESERVED.