I entered my graduate program with the intention of becoming a Human Services Manager. I enrolled in the Management and Community Organization social work program. In addition to the management courses in my graduate program, my employer also required that I enroll in their management training courses. Before my official management role, I was in a mentorship position. I've been on this management journey for twelve years now.
Hiring The Right Person Can Be Tough – Hiring is perhaps the most important component of a manager's job. Hiring the right person can be a long, tedious, and even disappointing process if you do it correctly.
Detailing exactly what you want and need in a job is a process of trial and error.
You may get an influx of unqualified applicants.
You may have a great candidate who withdraws from consideration.
You may receive a great resume that is completely opposite from the person who arrives for the interview.
You may feel pressured to hire quickly instead of waiting for the best applicant.
The list could go on and on.
Individualize Your Management Strategies – Employees are unique individuals with different backgrounds, experiences, values, and educational opportunities. Flexibility and patience are keys to management success. There is no one size fits all management strategy that will fit every employee or every situation.
Learn to Delegate –The idea that a manger can take on tasks or solve all the challenges their employees encounter because it is faster or more reliable is a surefire way to resentment and burnout. You have a staff so let them work. Delegating tasks to your team members helps them build confidence in their abilities and shows them that you trust them. Don't try to do it all yourself. You can't do it all yourself.
Don't Overwork Your Best Employees – When we want things done quickly or correctly, we usually delegate them to our best employees. Be sure that you are not over-delegating to your most capable team members. This can decrease the morale of your best employee who is rewarded with additional work as well as your less capable employee. Try to assign all work with fairness. As a manager you may have to discipline or remove underperforming employees for the good of your team and your company.
Prioritize Professional Development – Professional competence is essential to a successful company – your competence and your staffs. The best way to ensure that you and your team are competent, and your skills remain up to date is by prioritizing professional development. Schedule professional development into your calendar, your organizational budget, and your performance appraisals. Professional development can include both free and fee opportunities including webinars, videos, conferences, online courses, workshops, lunch and learn sessions, books, guest speakers, and cross trainings.
Related:
Manager Self-Reflection: I'm An Owl
Could Sesame Street Have Made Me A Better Supervisor?
5 Things I Know For Sure About Being A Manager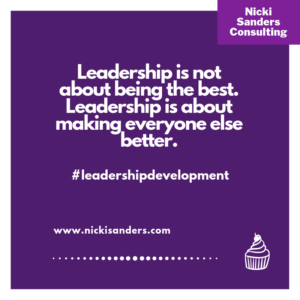 Nicki Sanders, MSW, is a travel and cupcake lover with a passion for self-discovery and career advancement. She has an extensive background in developing and managing interns and successful internship programs. She is an accomplished supervisor, professor, coach, trainer, and group facilitator who has merged her Master of Social Work degree and 20 years of diverse work experience into a thriving business. Nicki Sanders Consulting helps businesses increase employee recruitment and retention and helps managers uplevel their leadership skills.
© 2019 Copyright Protected. ALL RIGHTS ARE RESERVED.