I wrote the following after receiving messages from my team at the conclusion of the Crittenton 2019 "Talk with a Teen Girl" High Tea. Screenshots of their messages are below.
"I am vulnerable and authentic with my team. I'm not the 'hood keeping it real' type but they know want I expect but also that I love them. I set the bar high and ensure they have the tools to succeed. I truly see myself as there to serve – to help my team grow and develop. I listen and guide. I allow them to take the lead and I follow up with support. I show appreciation for their growth and their hard work but still let them know that continual improvement is the goal.
I intentionally set the atmosphere for them to connect. I let them know that I expect from them what they expect from the girls. ALL of my teams have always become good friends outside of work.
When I ask can I teach this I don't mean it in a doubtful way. I'm not afraid or backtracking. I mean can I teach this mindset? Does one have to already believe what I believe or is my role to disrupt the status quo and show why putting your people first or servant leadership is successful?"
At the end of the day, I believe that employees are a business' greatest asset. Employee disengagement and employee turnover are expensive. Both lead to decreases in productivity, morale, and profits. I am committed to creating healthier workplaces by assisting companies in recruiting, training, and retaining quality employees and by helping women in mid-level management lead with boldness and authenticity. I am ready to disrupt the status quo!
100 CRITTENTON TEENS DEMONSTRATE YOUTH LEADERSHIP AND SELF-ADVOCACY AT CRITTENTON'S SIGNATURE, ANNUAL EVENT
Crittenton Services of Greater Washington hosted the 2019 Talk with a Teen Girl High Tea on Thursday, April 25th, 2019 at the Silver Spring Civic Center. As one hundred teen girls and 100 adult guests came together for a conversation on issues ranging from building a successful 21st Century career to combating gender-based stereotypes and sexual harassment.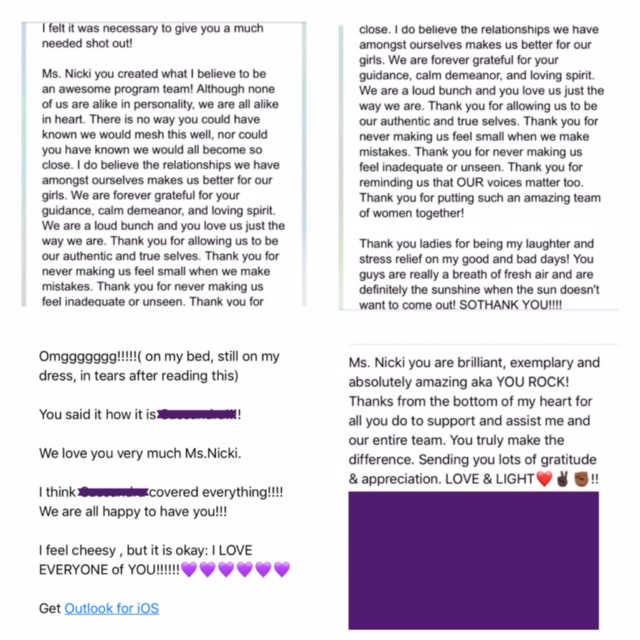 Nicki Sanders, MSW, CEO, is a travel and cupcake lover with an aptitude for authentic connection and career acceleration. She has an extensive background in developing and managing successful programs and leading high-functioning multi-disciplinary teams. She is an accomplished professor, coach, trainer, and group facilitator who has merged her Master of Social Work degree and over 20 years of diverse work experience into a thriving business. Nicki Sanders Leadership Consulting helps businesses recruit and retain the best employees and helps women in mid-level management Get Promoted to the job of their dreams.
© 2020 Copyright Protected. ALL RIGHTS ARE RESERVED.