Question 1: How authentic or vulnerable can you be with your team?
[The Formal Description]
For 10 years, Crittenton Services emerging leader training programming has worked to hone girls' leadership, advocacy, and communication skills. As the scope and capacity of this work has grown, we created a cornerstone experience, an intensive weekend-long conference called the Leadership Summit.
The 2019 Leadership Summit (April 19-21) helped our teens raise their own voice. Fifty teen girls from our SNEAKERS and Goal Setting Girls programs came together with our program leaders, Crittenton alumnae near-peers, and a variety of special guests and experts.
Over the three days of the Summit, the girls grew more confident in their abilities as leaders and as advocates. They learned to better embrace themselves for all their strengths and gifts. Girls from Washington, DC had the chance to get to know girls from Montgomery County and vice versa. They talked about challenges that are obstacles to their bright futures and how to overcome them. In the words of one of the participants, the leadership Summit, "Taught me to both love myself and stand up for myself."
[The Reality]
The weekend was LONG but extremely successful! It took months of planning, scheduling, recruiting and more. Creating an environment to facilitate growth, ensure safety, allow teenage strangers to become friends, strengthen the confidence of diverse leaders, and often silenced voices would be heard required commitment and dedication. What you will read below is one part of an email thread to and from my team after the Leadership Summit ended. I was completely exhausted by my heart was full!!!
Email Subject: I am so proud and appreciative
Hey Ladies,
I am emailing you from my bed

I am so proud of you as mentors, professionals and as powerful women.

I am so proud of your personal and professional development. I am proud of how you all came together and supported not only our girls but each other this weekend. I am proud of how you have made this our norm.

You all are an amazingly, powerful team and no one can convince me that there is anything that we can't do or conquer if we commit and work together.

You set an amazing example of Sisterhood and authenticity this weekend. If I could bottle it, we would all be wealthy. We are already rich in purpose, passion, and personality.

You each bring unique talents, skills, education, and experiences that mesh together in ways I couldn't predict. You all make me look good In my Ne-Yo voice, "I'm a movement by myself, but I'm a force when we're together." Seriously though, you DO make me better – you make me a better supervisor and a better human services professional.

Thank you for being exactly who you are and creating a nonjudgmental, safe space for your coworkers to be themselves as well.

We are literally learning and growing together.

I love this work, but you know I love you ladies more. ️ You Rock

Thank you for all you do!!

Nicki
Response from Team Member A:
From my bed too

Love you all with all my heart !!!

Thank you Ms. Nicki for accepting us for who we are ….
You are a great supervisor and you help us grow in our careers every day.

YOU ARE LOVE AND APPRECIATED IT BY ALL OF US!!!!️
Response from Team Member B:
I concur with Nicki/Team Member A! I too am grateful and my cup runneth over … thank you Nicki (amazing leader) and the entire team.
You are all "phenomenal & brilliant women" and I am so blessed to get to work and grow with each you on this journey. I am a reflection and truly appreciate all of you! Namaste Team Member B️
Response from Team Member C:
I agree with everyone! I am so grateful to be a part of such an amazing team. Where I can continue to learn and grow from each and every one of you!
QUESTION 2: How authentic or vulnerable can your team be with you?
The work that my team and I performed together required us to trust and depend on each other so that our youth participants could trust and depend on us. I led by example by treating my team the way I expected them to treat our program participants. I understand that this level of vulnerability is not acceptable, possible, or appropriate in all companies. My purpose and passion is to help you build your unique career and lead with your own level of bold authenticity – not duplicate mine. Work that pays well and satisfies your soul is possible! Are you ready to Get Promoted?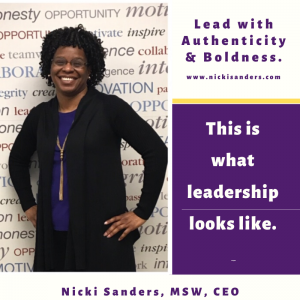 Nicki Sanders, MSW, CEO, is a travel and cupcake lover with an aptitude for authentic connection and career acceleration. She has an extensive background in developing and managing successful programs and leading high-functioning multi-disciplinary teams. She is an accomplished professor, coach, trainer, and group facilitator who has merged her Master of Social Work degree and over 20 years of diverse work experience into a thriving business. Nicki Sanders Leadership Consulting helps businesses recruit and retain the best employees and helps women in mid-level management Get Promoted to the job of their dreams.
© 2020 Copyright Protected. ALL RIGHTS ARE RESERVED.