Professional burnout is a cumulative process marked by emotional exhaustion and withdrawal associated with increased workload and institutional stress, that is NOT trauma-related. It is a state of physical or emotional exhaustion that can also involve a loss of personal identity. Burnout reduces productivity and saps your energy, leaving you feeling increasingly helpless, hopeless, cynical, and resentful. Eventually, you may feel like you have nothing more to give.
Compassion fatigue, also known as second-hand shock, vicarious trauma, and secondary stress reaction is different than burnout. Compassion fatigue describes a type of stress that results from helping or wanting to help those who are traumatized or under significant emotional duress. Human services professionals, medical professionals, and first responders commonly experience compassion fatigue as they are required to utilize compassion and empathy in their daily work. Compassion fatigue can also affect a wide range of professions, however.
"Compassion Fatigue is a state experienced by those helping people or animals in distress; it is an extreme state of tension and preoccupation with the suffering of those being helped to the degree that it can create a secondary traumatic stress for the helper." -Dr. Charles Figley
Professor, Paul Henry Kurzweg Distinguished Chair
Director, Tulane Traumatology Institute
Tulane University, New Orleans, LA
Someone affected by compassion fatigue may be harmed by the work they do. The emotional overload of dealing with, seeing and hearing about constant trauma in the lives of those you are tasked with helping can lead to intrusive thoughts and images of a client/patient, a decrease in work performance, and a negative change in world-view.
Other symptoms of compassion can include:
Chronic physical and emotional exhaustion
Irritability
Difficulty sleeping/nightmares
Weight loss
Headaches
Poor self-care
Compulsive behaviors
Poor job satisfaction
Complaints and blaming
Isolation
Difficulty concentrating
VIDEO: How to Manage Compassion Fatigue in Caregiving | Patricia Smith | TEDxSanJuanIsland
Patricia Smith is the founder of the Compassion Fatigue Awareness Project© (www.compassionfatigue.org), where she writes, speaks and facilities trainings nationwide in service of those who care for others.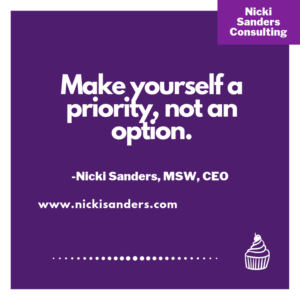 Nicki Sanders, MSW, is a Leadership and Career Strategist who helps mid and senior level women leaders develop the confidence, competence, and credibility to lead with authenticity and boldness. She has an extensive background in leading multi-disciplinary teams, developing and managing programs, and forming public-private partnerships. She is a college professor with a passion for teaching and mentoring the next generation of leaders. Nicki is an accomplished supervisor, trainer, and group facilitator who has merged her Master of Social Work degree and over 20 years of diverse work experience into a thriving business. Nicki Sanders Leadership Consulting assists companies in expanding their influence and impact by enhancing employee recruitment, increasing employee morale and performance, and decreasing employee turnover.  Nicki is a travel and cupcake lover who also enjoys reading, listening to music, and serving her community.

© 2019 Copyright Protected. ALL RIGHTS ARE RESERVED.