Insubordination is the clearly disobedient or disrespectful behavior of an employee to a manager, supervisor, or business owner. Insubordination can be direct or indirect. If a supervisor makes a legal, ethical, and reasonable request of a subordinate that they choose to ignore even though the instructions were clearly understood, that is insubordination.
What can you do about it?
Remain Professional
When an employee is insubordinate, it is easy to become angry. You may even feel like "fighting fire with fire" and responding with disrespect or hostility. Please don't. It is pertinent that a leader remain calm and professional and not allow negative feelings to take over.

Respond Immediately
Respond immediately doesn't mean that you should react impulsively, it means do not let hours or days pass without addressing the issue. It is completely appropriate to walk away to prevent a blow up. Gather yourself as quickly as possible and then respond. If you are angry or unsure how to respond in the moment, it is acceptable to schedule a later time to talk.

Investigate The Cause
Do not ignore the problem. Taking the time to find out the root cause of insubordination can help with prevention, intervention, and resolution.
Document The Behavior
Some behaviors require immediate termination. Other behaviors may call for disciplinary action but not dismissal. Having a record of the inappropriate responses/behaviors, meetings, conversations, consequences, and resolutions is essential in reestablishing order and also building a case for termination if warranted.

Make A Plan and Follow It
It is important that employees understand expectations and consequences for ignoring the expectations. Determine the best course of action. Create a plan with the disgruntled employee to eliminate further infractions and also create a plan to avoid insubordination from other employees. It is important to organizational culture that leaders stick to these plans – even if it means termination.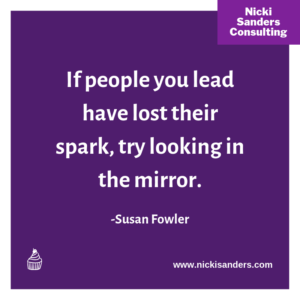 Nicki Sanders, MSW, is a Leadership and Career Strategist who helps mid and senior level women leaders develop the confidence, competence, and credibility to lead with authenticity and boldness. She has an extensive background in leading multi-disciplinary teams, developing and managing programs, and forming public-private partnerships. She is a college professor with a passion for teaching and mentoring the next generation of leaders. Nicki is an accomplished supervisor, trainer, and group facilitator who has merged her Master of Social Work degree and over 20 years of diverse work experience into a thriving business. Nicki Sanders Leadership Consulting assists companies in expanding their influence and impact by enhancing employee recruitment, increasing employee morale and performance, and decreasing employee turnover.  Nicki is a travel and cupcake lover who also enjoys reading, listening to music, and serving her community.

© 2019 Copyright Protected. ALL RIGHTS ARE RESERVED.