"Confidence and competence lead to credibility." – Nicki Sanders, MSW
Career Acceleration Strategy: Never Stop Learning (video)
Five benefits of professional development:
Take charge of your career.
Expand your employment opportunities.
Improve your performance.
Remain relevant or up to date in your profession.
Stimulate and exercise your brain.
Confidence, competence, and credibility accelerate your path to Get Promoted.
Take The Next Step In Your Career:
Join me for the 2020 return of Bold Authenticity Monthly Leadership Seminar. Invest time in gaining clarity, developing 2020 career goals, and creating a plan to reach them. HURRY! REGISTRATION ends on Monday 1/20/20.
BOLD AUTHENTICITY LEADERSHIP SEMINAR
Wednesday, January 22, 2020 at 1:00pm
Virtual Session
"Begin With The End In Mind"
Don't Miss Out! REGISTER for this virtual training on my websiteat a one-time new year rate of $120.20. Regular investment is $197.00.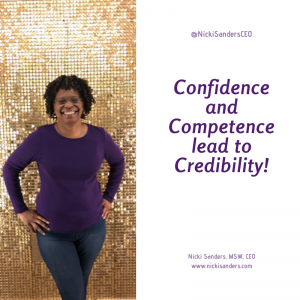 Nicki Sanders, MSW, CEO, is a travel and cupcake lover with an aptitude for authentic connection and career acceleration. She has an extensive background in developing and managing successful programs and leading high-functioning multi-disciplinary teams. She is an accomplished professor, coach, trainer, and group facilitator who has merged her Master of Social Work degree and over 20 years of diverse work experience into a thriving business. Nicki Sanders Leadership Consulting helps businesses recruit and retain the best employees and helps women in mid-level management Get Promoted to the job of their dreams.
© 2020 Copyright Protected. ALL RIGHTS ARE RESERVED.