There is so much that I want to say about the amazing life, leadership, and legacy of Rev. Dr. Martin Luther King, Jr. His words and actions are applicable to discussions about individual self-worth, family, branding, integrity, education, career advancement, leadership, opportunity, purpose, mindset, faith, service, and the list goes on. Dr. King was able to change lives and laws because he was clear about his goals, committed, strategic, and had a strong network of support. When the obstacles around him appeared greater than the work ahead of him he persevered. Despite hatred, violence, and intentional plots for his demise, he persisted. I am inspired by his accomplishments and in awe of his love for humanity. Dr. King is a powerhouse example of leading with boldness and authenticity.
Dr. King left an amazing leadership blueprint that extends beyond civil rights. His footprints can be traced in many manners of locations and ways.
I've traveled to Atlanta, Georgia to visit The King Center and Dr. King's family home.
I've traveled to Memphis, Tennessee to visit the Loraine Motel.
Here in my hometown of Washington, DC, I've visited the Lincoln Memorial and the King Memorial.
I am planning a trip to Birmingham and Montgomery in Alabama soon.
How will you leave a legacy?
Join me next Wednesday 1/22/20 for the 2020 return of Bold Authenticity Monthly Leadership Seminar. Invest time in gaining clarity, developing 2020 career goals, and creating a plan to reach them. HURRY! REGISTRATION ends on Monday 1/20/20.
BOLD AUTHENTICITY LEADERSHIP SEMINAR
Wednesday, January 22, 2020 at 1:00pm
Virtual Session
"Begin With The End In Mind"
Don't Miss Out! REGISTER for this virtual training on my websiteat a one-time new year rate of $120.20. Regular investment is $197.00.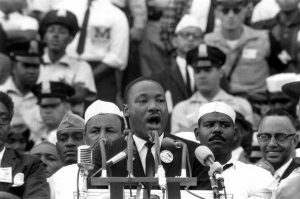 Nicki Sanders, MSW, CEO, is a travel and cupcake lover with an aptitude for authentic connection and career acceleration. She has an extensive background in developing and managing successful programs and leading high-functioning multi-disciplinary teams. She is an accomplished professor, coach, trainer, and group facilitator who has merged her Master of Social Work degree and over 20 years of diverse work experience into a thriving business. Nicki Sanders Leadership Consulting helps businesses recruit and retain the best employees and helps women in mid-level management Get Promoted to the job of their dreams.
© 2020 Copyright Protected. ALL RIGHTS ARE RESERVED.