June is Black Music Appreciation Month
The White House: A Proclamation on Black Music Appreciation Month, 2021
From National Day: The United States has been celebrating African-American Music Appreciation Month in June since 1979. The month of June is set aside to appreciate the contributions of African-American musicians, composers, singers, and songwriters in American culture. The month honors the history and rich African traditions that gave birth to different styles of music such as rap, hip-hop, jazz, rhythm and blues, barbershop, and swing. It is also the month to celebrate creative inspiration and appreciate the impact that African-American music has had on generations of performers and music lovers! From tales of slavery and racism and fighting for their basic human rights to finding their heritage and values in their lyrics, Black music covers a vast range of topics that have great significance for this community. Over the years, we have seen Black musicians reach great heights, not only on official music record charts but also at entertainment award ceremonies. While President Jimmy Carter designated June as Black Music Month in 1979, it wasn't until 2000 when the presidential proclamation for the month was signed. President Barack Obama, in 2009, went on to rename the month from Black Music Month to its current name, African-American Music Appreciation Month.
It's June 2021 and we are a year and a half into a global health pandemic and quarantine. As we emerge from mandatory quarantines and mask mandates and the vaccinations numbers continue to increase, I wanted to take a moment to reflect on and celebrate how Black music brought us through these unprecedented times both individually and collectively.
Coronavirus Pandemic
Isolation, fear, illness, and economic upheaval plagued humans around the world for months on end. Businesses, churches and schools closed their doors. Adults and children for whom home was not their refuge couldn't escape to a safe place. Families couldn't gather to celebrate special occasions or support each other through the grief of sickness and death. We saw massive numbers of families and caregivers who could no longer afford food and rent. Hospitals, group homes, prisons and nursing homes ended visitation. We have not experienced this kind of death and destruction in modern times.
They say necessity is the mother of invention and music is a universal language. I am so grateful that social media offered a platform for connection, fun, and nostalgia. Music concerts were cancelled but we had the opportunity to bring virtual dance parties into our homes. Celebrities and regular folks alike could share our thoughts and memories online with people around the world. Disconnection was replaced with unity and boredom was replaced with entertainment.
THANK YOU for uniting and comforting us when we needed it most!!
Black Music Month 2021
In celebration of Black Music Month, Urban One has released a new podcast series, "For the Culture, A History of Black Music." Urban One/Reach media syndicated radio host Angie Ange will host the six podcast episodes focused on the impact of Black music genres on today's music including Gospel, Funk, Philly Soul, Trap, Hip Hop, Go-Go, and Chopped and Screwed. There will also be featured interviews with music makers from each genre. It will be available wherever you listen to podcasts.
For the Culture Podcast Schedule:
Episode 1 The History of Gospel Music: Wednesday, June 2, 2021
Episode 2 The History of Trap/Hip Hop: Wednesday, June 9, 2021
Episode 3 The History of Funk Music: Wednesday, June 16, 2021
Episode 4 The History of Soul Music: Wednesday, June 23, 2021
Episode 5 The History of Chopped and Screwed Music: Wednesday, June 30, 2021
Episode 6 The History of Go-Go Music: Wednesday, July 7, 2021
How will you commemorate African American Music Month?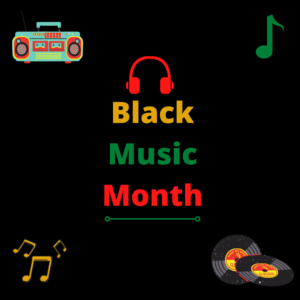 Nicki Sanders, MSW, CEO, is a Career and Empowerment Strategist who helps high-performing women of color in management go from overworked, underpaid, and unappreciated to energized, well paid, and appreciated. Through Nicki Sanders Leadership Consulting, she also helps businesses recruit, hire, train, and retain great employees. Nicki has an extensive background in developing and managing successful programs and leading high-functioning multi-disciplinary teams. She is an accomplished professor, coach, trainer, and group facilitator who has combined her gift for authentic relationships, Master of Social Work degree, and over 20 years of diverse work experience to create a life she loves. Nicki is a lover of cupcakes, travel, and 80's hip hop and R&B music.
© 2021 Copyright Protected. ALL RIGHTS ARE RESERVED.