Do you watch DIY Network? The Travel Channel? The Food Network?
What these channels have in common is not just they are a part of Discovery, Inc., but also that they celebrate and promote a do-it-yourself agenda.
There are times when it makes perfect sense to DIY specific areas. There are other times when you are stalling your success and elevation by doing things alone or on your own. The truth is what got you here won't get you there. When you decide to play bigger, you must move differently for bigger to materialize.
There are opportunities available that align perfectly with your values, lifestyle, and financial needs. I'm here to help you through all the challenges and self-imposed obstacles that surface when accelerating your career. Your next level requires visibility, positioning, communication, and initiative. Clarity, objectivity, empowering beliefs, connection, and new habits await.
Stop trying to DIY your career! I can play several positions on your winning team, including:
1. Coach: Providing strategies, tools and resources to help you Uplevel Your Position
2. Cheerleader: Freely giving encouragement and pep talks while cheering for every win
3. Teammate: Helping you score the winning point by serving as a reference or providing a recommendation
4. Assistant Manager: Helping you evaluate your overall career success, document your wins, and develop an ongoing career acceleration strategy
5. Trainer: teaching and training are my jam, and I will help you prep for interviews and salary negotiations.
Nicki Sanders has been very instrumental in helping me elevate in my career. I had the pleasure of working with her for the past year. Nicki is amazing at providing you with tools to assist you with getting to the next level in your career. I appreciate Nicki helping me narrow down where I wanted to go next because I have big dreams. She is consistent and clear with her communication. She encouraged me to stop being afraid to JUMP. She coached me on how to negotiate salary and edited my resume to reflect how much of an asset I am on paper. I was recently offered a huge opportunity that I've been wanting for quite some time. Thank you, Nicki, for all of your suggestions, tools, and support through this process. -Z. Williams, MSW
Are you overworked, underpaid, and unappreciated? Unfulfilled and bored with your job? Ready to level up?
I'm ready to add new career coaching clients to my roster. Trust me, you want me on your team.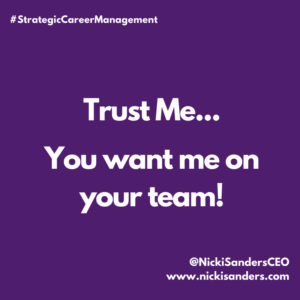 Nicki Sanders, MSW, CEO, is a Career and Empowerment Strategist who helps high-performing women of color in management go from overworked, underpaid, and unappreciated to energized, well paid, and appreciated. Through Nicki Sanders Leadership Consulting, she also helps businesses recruit, hire, train, and retain great employees. Nicki has an extensive background in developing and managing successful programs and leading high-functioning multi-disciplinary teams. She is an accomplished professor, coach, trainer, and group facilitator who has combined her gift for authentic relationships, Master of Social Work degree, and over 20 years of diverse work experience to create a life she loves. Nicki is a lover of cupcakes, travel, and 80's hip hop and R&B music.
© 2021 Copyright Protected. ALL RIGHTS ARE RESERVED.