I am committed to being who I am authentically and being transparent in how my personality, values, and beliefs dictate my personal and professional decisions. I decided to end the month with a little personal reflection. Here's another Freedom Friday post for you…
Let me start by saying that coronavirus was not a hoax and despite what your local politicians are telling you, the COVID-19 pandemic is not over. Now, with that being said, I understand that we cannot quarantine forever and that the world is reopening.
This global health pandemic elevated my high-functioning anxiety exponentially. Couple that with the fact that I am a true introvert, and you may begin to understand how I could enjoy the safety of my quarantine cocoon. As much as I believe that the economy reopened too quickly, that the vaccination honor system is stupid, and that this virus is still a health threat, I am very slowly easing myself back into society. I am NOT ready to go all the way back in, however. In fact, I am evaluating what parts of my pre-pandemic life I want to return to.
Here is my pre-pandemic introverted truth:
My life goal is to live on a 100-acre farm
I have never liked crowds
I really dislike public transportation
I'm a germophobe
I'm not a big restaurant patron (especially eating outdoors at restaurants)
I need people to respect my personal space and not get close to me unless invited
I never need to visit another amusement park
My dream vacation is a jungle or rainforest treehouse in Costa Rica
Nothing has changed there!
My first 'outside' venture was a day trip to American Dream Mall last month (May). At the time New Jersey was still under a mask mandate and the mall was still limiting the numbers of patrons in each store. I did not eat indoors. It was an OK test trip…so I thought!
I spent this weekend in Orlando. I was in Orlando International Airport in March 2020 at the onset of the pandemic. No matter how much I planned and prepared, I was not ready for the return to the airport. Hundreds of unmasked people in a bubble…or a petri dish. I know that seems exaggerated, but it is exactly how it felt to me, and no amount of hand sanitizer or disinfectant could erase the thought. Oh, and then to move on to the pleasure of disinfecting a rental car and hotel room. And yes, I wore a mask the entire weekend unless I was outdoors and away from people. I did not eat indoors. And to make matters worse my flight home was delayed 3 hours due to weather. Nothing about this weekend was relaxing. Not one thing.
After this weekend's misadventure, I have returned to my goal of visiting all 50 states in a recreational vehicle (RV). I like the speed of airplanes but the appeal of being fully contained and separated has been reignited. I'm sure that eventually, the plane will likely win.
I've waited years for F9: The Fast Saga, so this weekend will be my first venture back into a movie theater. I'm already planning to see the earliest show in hopes that the theater isn't crowded. I can tell you definitively that I will not have refreshments in the theater. No need in pretending that I'm returning to business as usual because I'm not and I'm OK with that.
Stay tuned for what else is next for me since the world has opened back up. Baby steps…
Related: I Don't Agree with that List of the 25 Greatest Animated Shows of All Time
#funfriday #freedomfriday #fridayfeeling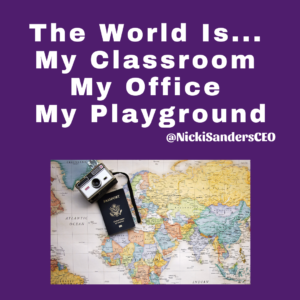 Nicki Sanders, MSW, CEO, is a Career and Empowerment Strategist who helps high-performing women of color in management go from overworked, underpaid, and unappreciated to energized, well paid, and appreciated. Through Nicki Sanders Leadership Consulting, she also helps businesses recruit, hire, train, and retain great employees. Nicki has an extensive background in developing and managing successful programs and leading high-functioning multi-disciplinary teams. She is an accomplished professor, coach, trainer, and group facilitator who has combined her gift for authentic relationships, Master of Social Work degree, and over 20 years of diverse work experience to create a life she loves. Nicki is a lover of cupcakes, travel, and 80's hip hop and R&B music.
© 2021 Copyright Protected. ALL RIGHTS ARE RESERVED.