Stay at home orders, layoffs, telework, homeschooling, bills, shopping, uncertainty, anxiety…
Small Business Owners, we see you. Decrease your level of struggle and worry during this turbulent time with premium business support.
Profitable CEO believes in small businesses so much that the company is offering 14.9 million dollars in scholarships during the global coronavirus pandemic. The COVID-19 Stimulus Package for Small Business owners was created to help small businesses pivot and thrive. Five thousand (5000) scholarships are being offered. This is an opportunity to sharpen and learn new skills to emerge successfully from this challenging time.
Pay It Forward Virtual Summit: 30 Days – 30 Experts – 30 Minutes
The COVID-19 Stimulus Package for Small Business includes a Free Pay It Forward Virtual Summit held April 1 – April 30, 2020. Gain access to the Virtual Summit here. I am honored to be a featured presenter. You can view my session on Friday, April 17, 2020 and also in the vault if you take advantage of the scholarship.
Profitable CEO Vault
The Vault offers Instant Access to Business Development Training (24/7/365), including tutorials, courses, live trainings, resources, and more. The scholarship allows you 90 days of access to premium business education for $9.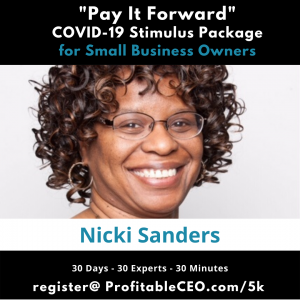 Nicki Sanders, MSW, CEO, is a travel and cupcake lover with an aptitude for authentic connection and career design. She has an extensive background in developing and managing successful programs and leading high-functioning multi-disciplinary teams. She is an accomplished professor, coach, trainer, and group facilitator who has merged her Master of Social Work degree and over 20 years of diverse work experience into a thriving business. Nicki Sanders Leadership Consulting helps businesses recruit and retain the best employees and helps women in mid-level management design the careers of their dreams.
© 2020 Copyright Protected. ALL RIGHTS ARE RESERVED.