Have you ever seen a one size fits all tag on an article of clothing and immediately gotten a picture in your mind of a person who could not fit that clothing?! That's the space I'm in with the uniform coronavirus business and career advice. Nothing fits everyone. There are best practices, but no hard and fast 'must do's' for this unchartered territory we have entered. In many ways – both positive and negative – life is forever changed.
I've seen several social media graphics with a version of "If you don't come out of the quarantine with a new skill, your side hustle started, or more knowledge, you never lacked time, you lacked discipline". That mindset doesn't take into account that someone may be:
An essential employee worried they will be exposed to the coronavirus
Caring for an elderly, sick, or disabled relative
Struggling to educate their children
Unsure how to feed their children or pay their mortgage
Suffering with previous mental health issues
Teleworking and expected to be available at various times of the day or night
Living in an unsafe environment
We (as a human collective) cannot thrive through this global pandemic with a one size fits all career approach. Our career journeys are as individual as our fingerprints.
Grind, rest, cry, laugh, play, learn, teach, register, and everything else that works for YOU to emerge healthier and happier on the other side of this unique period in time!
We also can't build thriving careers alone. Physical distancing to prevent the spread of Covid-19 is essential. Literal social distancing will keep us stuck in overwhelm and anxiety.
You don't have to navigate this new career landscape alone. I'm offering my Career Acceleration Strategy Session to ambitious professionals who are ready to focus on career advancement. No gimmicks, no pressure, no judgment – just the offer of customized career support!
Register for my Career Acceleration Strategy Session to receive targeted strategies to design and attain a successful career. Together we will challenge the status quo, brainstorm, and limit any previously held limitations to create the game plan to help you reach your career goals. The regular investment for this one hour session is $297, but in honor of my birthday month, I am offering you a Career Acceleration Strategy Session for the investment of $129 through April 30, 2020. If you're ready, I'm ready!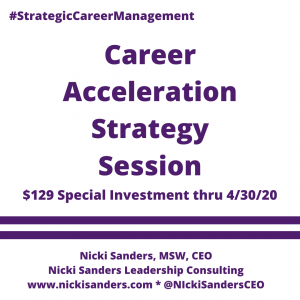 Nicki Sanders, MSW, CEO, is a travel and cupcake lover with an aptitude for authentic connection and career design. She has an extensive background in developing and managing successful programs and leading high-functioning multi-disciplinary teams. She is an accomplished professor, coach, trainer, and group facilitator who has merged her Master of Social Work degree and over 20 years of diverse work experience into a thriving business. Nicki Sanders Leadership Consulting helps businesses recruit and retain the best employees and helps women in mid-level management design the careers of their dreams.
© 2020 Copyright Protected. ALL RIGHTS ARE RESERVED.