"Social Work and Human Service Managers make important contributions to the profession every day but rarely are recognized for the vital role they play in sustaining our organizations. Social Work Management Week was created to highlight the leaders among us and the unique, non-traditional ways in which they work and contribute to society. Social Workers are versatile and work in many capacities. Please join us in celebrating the leaders among us who every day challenge what it means to be a social worker."
– Lakeya Cherry, CEO of The Network for Social Work Management
The Network for Social Work Management was created more than 30 years ago by a group of seasoned social work managers. It was their belief that social work managers needed to have their own professional organization committed to supporting them in their unique challenges, along with the development of their professional expertise. They understood that as social workers climb up the ladder and make the shift into managerial positions, the training they need is different from those working directly with clients.
Social Work Management Week was commemorated March 11 – March 15, 2019. During this week, we celebrated the important work of The Network for Social Work Management and the achievements of social work leaders and human service organizations around the world to advance social justice for all. Social Work Management Week was founded by CEO, Lakeya Cherry in March 2015 to foster a week of engagement, celebration and recognition.
Social Work Management Week #socialworkerslead
I celebrate Social Work Management Week because social workers deserve to be recognized for the many ways and many positions in which we lead around the world. This is another great way to #elevatesocialwork
Social Workers are leaders because we are making significant changes in various industries, in various capacities, and in various agencies all around the world.
I LEAD because I believe that we all have a responsibility to share our knowledge and experience and advocate for and support others.
How did you commemorate Social Work Management Week?
Related: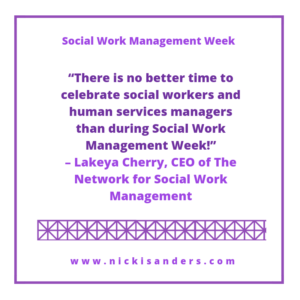 Nicki Sanders, MSW, is a travel and cupcake lover with a passion for self-discovery and career advancement. She has an extensive background in developing and managing interns and successful internship programs. She is an accomplished supervisor, professor, coach, trainer, and group facilitator who has merged her Master of Social Work degree and 20 years of diverse work experience into a thriving business. Nicki Sanders Consulting helps businesses increase employee recruitment and retention and helps managers uplevel their leadership skills.
© 2019 Copyright Protected. ALL RIGHTS ARE RESERVED.