Jenai K. is a Feminine Wellness Coach and the Creator of By Jenai K., a Feminine lifestyle boutique with a holistic approach to health, beauty and wellness emotionally, mentally, spiritually, and physically. Jenai K. is a natural leader who has taken on both formal and informal leadership roles. As a young child, Jenai K. was selected for various leadership roles in her church and in her sorority, was seen as a leader among her coworkers, selected for supervisory roles in former places of employment, and as an entrepreneur she set herself apart as a leader in the event design industry and has now transitioned to become an industry leader in the area of Feminine Wellness and Sensual Self-Care.
Jenai K. is grateful that throughout her life people saw leadership potential in her even when she didn't see it in herself. She has always valued her work and been a valuable employee, but looking back she realizes that her purpose has included supporting her colleagues as much as her clients. Her coworkers would always come to her for information, support and resources even when she was not serving in an official leadership capacity. Jenai K. says that she is the person that people feel comfortable telling their whole life story to. She claims her gift of influence as her leadership superpower. She respects the influence she has had on others and attributes that to the fact that she has always shown up in a powerful way and is committed to always bringing herself to work.
Jenai K.'s education and employment background is in the mental health field. As a supervisor, Jenai K. has been intentional about standing in her truth and not being swayed by others' opinions of her team. She believes that she brings positive energy into the office and has been able to turn around negative situations by being slow to judge, using positive language, interacting with her team in a fair way, and being her true self instead of being the leader that other people may expect her to be.
What Jenai loves most about being a leader is the gift of influence as she leads with her heart. She enjoys leading from a place of inner knowing. The gift of influence has allowed her to pave the way for her family members as they are now embarking upon business opportunities and purpose driven endeavors. Being a leader allows her to use her creativity which feels good to her as a feminine woman. Being a leader allows her to support people in the highest way possible; whether that is supporting them to operate in their brilliance or by teaching them how to enhance their lives through the embodiment of femininity and sensual self care.
In her 9 to 5 settings and with her private coaching clients Jenai K. has connected and motivated others by demonstrating to them they are truly valued and appreciated. She gives them opportunities to make choices for themselves whenever possible, learning their preferred style or love language. She shows them that she is human by not identifying with a position or title and praising and celebrating them as much as possible.
Jenai K. was blessed to have a great supervisor of 12 years who didn't impose his opinion or exploit his position. The main thing that she learned from a bad leader is exactly what not to do. She endeavored to not make assumptions and put negative energy into the atmosphere as well as to recognize and appreciate her staff.
Jenai K. feels that women are naturally good leaders when they are operating in their feminine energy. Feminine energy leaders value collaboration over competition and are creative and intuitive, qualities which are necessary in leadership. The one piece of advice that Jenai K. would give to women in leadership is to realize that being in leadership does not mean operating like a "man". She has come to understand that men focus on respect where women increase our stress levels and burn ourselves out trying to gain respect in a created culture that tells women that they have to be hard to gain respect and views softness and femininity as signs of weakness. Women have been taught that if they express their softness and femininity in the workplace they will be taken advantage of and therefore women must compete with each other to be equal to men. Thankfully, Jenai K. believes that women are coming back to our naturally feminine ways. She advises women in leadership to always look for the strengths and interests in those they lead to support them in operating in their brilliance and their passions so they will feel good about what they do and to show up fully as the Divine Feminine Being that they are.
Although Jenai K. loves helping people, she always felt that something was missing as a mental health professional. She was not completely satisfied and began to shift her focus to something that allowed her to be more creative – event design. As an event designer, Jenai K. realized that she could not do everything herself when she encountered a client who had grand plans and a small budget. She recognizes that she did not properly advocate for herself in that situation when her client wanted to work with volunteers instead of a paid production team to execute their vision. Although Jenai K. believes that she executed the event well with the limitations placed on her, the client was not happy. Jenai K. feels that she is gifted in event design but began to revisit her calling after the realization that executing events requires a masculine energy that was causing her to burn out.
As she continued her personal evolution, Jenai K. embarked on a spiritual journey that included feminine coaching practices. As she continued on the path to enlightenment, Jenai K. recognized how much the feminine coaching resonated with the truth of who she is as a woman. While being continually exposed to new opportunities, she was able to cultivate all of who she is into her next level of leadership. In college she was not taught how to create her own opportunities and she believes that society forces us to compartmentalize ourselves. Until this time, she did not know how to connect her coaching, counseling, and educational background into her work on a spiritual level. She was now able to integrate all of who she is as a woman – including creativity, fashion, glamour and luxury – and share that with other women.
While in North Carolina for New Years Day in 2018, Jenai K. had her first yoni steam. Her natural gifts went to work creating ways to improve the experience. In April of the same year, Jenai K. wanted to patronize a salon that offered yoni steams. Jenai K. gifted herself this experience for her birthday. The owner expressed that she planned to develop her own yoni steam curriculum to teach others how to offer the session. At this time Jenai K. had determined that she wanted to offer retreats for women and it was suggested that she offer yoni steams during her retreats. When the course opened her July, Jenai K. was in a state of transition and decided to see where this would take her. Jenai K. continued to look inward and give herself permission to evolve.
Jenai K. has created a business that allows her to use all of her gifts – femininity, spirituality, and counseling – to support other women in achieving a feminine awakening. Her mentors have shown her what is available to her and she in turn is sharing that with her clients. By Jenai K. is a feminine lifestyle boutique that encourages possibility through personal development coaching, products, sensual flow movement and bellydance and sensual self-care. Jenai K.'s background has helped her secure her spot as a leader in the beauty and wellness industry. In the mental health field, traumas are processed verbally but many are unable to move forward because they are still holding the negative energy inside themselves. Jenai K. uses yoni steams and sensual flow movement to tap into the senses for deeper nourishment and to move the stagnant energy. Jenai K. emphasized the Yoni Experience by Jenai K. is not just for women in pain. Although her services can bring relief to women in crisis, she says there is value for all women who desire to have more, go higher, and experience more pleasure and passion to enhance their sensuality to better show up in the world. She incorporates luxury and glamour to create a true experience.
Jenai K. reminds us that beauty rituals such as manicures and pedicures should be a part of our self-care plan but not our primary form of self-care and that self-care should also include knowing when to seek support and establishing clear standards and boundaries. She practices self-care through prayer, meditation, bellydance, yoga, connecting with nature, listening to music, spiritual baths, Yoni steams, reiki and eating yummy and nutritious foods.
Jenai K. has a 100% plant based diet and highly recommends cupcakes from 'My Vegan Sweet Tooth' in Virginia Beach, VA. She says that she doesn't have a favorite cupcake flavor but loves anything strawberry and pineapple.
Visit the By Jenai K. website to learn more about her feminine wellness and sensual self-care products and services. You can also follow Jenai K. on Facebook and Instagram for tips on tapping into your femininity.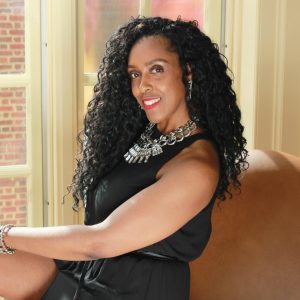 Nicki Sanders, MSW, CEO, is a travel and cupcake lover with an aptitude for authentic connection and career design. She has an extensive background in developing and managing successful programs and leading high-functioning multi-disciplinary teams. She is an accomplished professor, coach, trainer, and group facilitator who has merged her Master of Social Work degree and over 20 years of diverse work experience into a thriving business. Nicki Sanders Leadership Consulting helps businesses recruit and retain the best employees and helps women in mid-level management design the careers of their dreams.
© 2020 Copyright Protected. ALL RIGHTS ARE RESERVED.