It is a centuries old tradition for women to change their names once married and others after a divorce. Still others change their name after a spiritual awakening. What's in a name?
I'm a native Washingtonian. No, actually, I'm a "DC Girl". What's in a name?
I was a teenager during the height of the crack epidemic when DC was the murder capital of the United States. Because of that label, the name of Washington, DC's National Basketball Association (NBA) team was changed to the Washington Wizards from the Washington Bullets to avoid any reference or connection to gun violence in the city. What's in a name?
The Washington Redskins were owned by George Preston Marshall who it is reported that he stated that fans preferred watching white players and would reject the Redskins if they had a black player. In 1962, the Washington Redskins was the last National Football League (NFL) team to allow racial integration and only under threat of civil rights legal action by the Kennedy administration.
Decades later, Doug Williams, the first African American quarterback to start a Super Bowl, earned most valuable player in Super Bowl XXII on Jan. 31, 1988 when the team defeated the Denver Broncos. I am not a sports fan but this was a huge deal in the city. District to Columbia Public School students like myself were allowed to miss school to attend the celebratory parade. The franchise continued to be one of the most lucrative and recognizable NFL teams although their record over the last few years has been dismal.
Despite decades of protest and litigation, current team owner, Daniel Snyder said that he would never change the mascot deemed derogatory and racist to native Americans. The year 2020 has been a year of social injustice and protest. Snyder has decided to drop the name Redskins and rebrand Washington's NFL team after financial pressure from big name companies such as Nike halted the selling of team merchandise.
There are die hard fans who do not want the name to change and others who feel it is long overdue. There are those who say the owner crumbled under the weight of political correctness and others who claim that the team will finally be on the right side of history and social justice – especially as the Black Lives Matter movement continues to strengthen. What's In A Name?
The name of my business has changed three times as I continue to evolve personally and professionally and as my business continues to evolve. What's in a name?
Although names may change, the essence of who a person or business is doesn't have to change. Core values can remain intact despite a name change. What characteristics and expectations are attached to your name?
If you are ready to document your career achievements so that you can more easily identify your unique value proposition and leverage your career experience, grab the Career Achievement Log Toolkit HERE.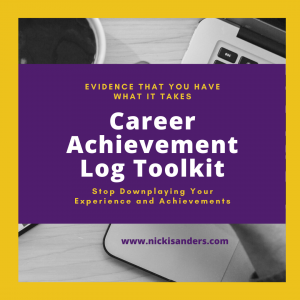 Nicki Sanders, MSW, CEO, is a travel and cupcake lover with an aptitude for authentic connection and career design. She has an extensive background in developing and managing successful programs and leading high-functioning multi-disciplinary teams. She is an accomplished professor, coach, trainer, and group facilitator who has merged her Master of Social Work degree and over 20 years of diverse work experience into a thriving business. Nicki Sanders Leadership Consulting helps businesses recruit and retain the best employees and helps women in mid-level management design the careers of their dreams.
© 2020 Copyright Protected. ALL RIGHTS ARE RESERVED.