Jessica Moore-Solórzano, MPH, CHES immigrated to the United States from Nicaragua unable to speak English and determined to excel. Growing up, her mother, a registered nurse, would tell her, "Es importante que seas una mujer preparada, asi no tendrás que depender de nadie" which means "it's important that you become a college-educated woman, so that you don't have to depend on anyone". From a very early age, her mother instilled the love and importance of learning and sacrificed her own career so that Jessica would have a chance to develop into her fullest potential. Her mother taught her to be proud of her culture and traditions and insisted on the value of service to others. Since high school, Jessica has volunteered in several community-based organizations that provided support services to Latina/o youth. Those early experiences paved her way to a career in public health and a life of service assisting under-represented youth and their families. From one opportunity to another, she has excelled and given all that she has to the field that has brought her personal and professional satisfaction. In many ways, her mother's words served as her compass for the public health professional, leader and mother of three little girls she has become.
Jessica defines leadership as someone who is brave, determined and resilient. As a leader, you often have to draw from your experiences to convey your message in hopes that it will resonate with others. That kind of bravery also requires you to know yourself well and to be confident that your voice and your experience matters. Being a leader also means you are determined. Determination does not mean following the easy, straight forward path to reaching one's goals. It means putting the best you have to offer forward, consistently and diligently. Effective leaders are also resilient because when things do not work out as expected, there is always something to learn and to help you grow.
Jessica has led a variety of projects focused on positive youth development best practices, health education, leadership development, community advocacy and community engagement. What she loves about being a leader is that when you are passionate about something, it shows in all you do. Having that kind of passion can inspire others to join you! Leading by example is the most effective way to show others who you are, what you care about and why. What she wishes she had known before becoming a leader is that leadership is a life-long journey and it's very important to surround yourself with other leaders whom you respect and admire. Whether leading at work or in her community, Jessica takes the time to learn about each member and what important role they play on the team. Understanding your team's talents and skills can be the difference in how successful and efficient you can be to get the job done, she explained.
Jessica believes that unconditional love and resilience makes women naturally good leaders. She is grateful to her mother for her sacrifice and strength. Jessica's mother led with love when she came to the United States knowing her daughter would not have the same opportunities to pursue a college education in war-torn Nicaragua. She admired the bravery her mother had to leave everything she knew and loved behind for a chance at a different life for Jessica and her brother. As a mother of 3, Jessica now fully understands and is inspired by that kind of love and resilience.
Jessica's leadership superpowers are authenticity and compassion.  In her role as faculty advisor for Students Engaged in Public Health (service oriented student organization), she is able to engage students and help them plan community service events in collaboration with local non-profit organizations.  "And, oh yes, I take my little ones everywhere I go" she said proudly. Through these experiences, her hope is that her daughters grow up to be confident in their ability to advocate for themselves and others.     
The leadership advice that Jessica wants to share with other women in leadership is that there is always something new to learn and discover about yourself. She encourages women leaders to seek mentors for different areas of their life (personal and professional) that they respect and that inspires them.
One positive thing that Jessica learned from a bad leader is that using others to propel one's own agenda or career does not work. Respect and trust matter in all fields and careers and just like a good reputation follows you everywhere you go, so does a bad one!
Jessica practices self care by writing in her gratitude journal as often as possible. Being able to read through those posts reminds her to have perspective, gratitude and faith. Her favorite cupcake is brownie delight from Lilly Magilly's Cupcakery in Gaithersburg, MD.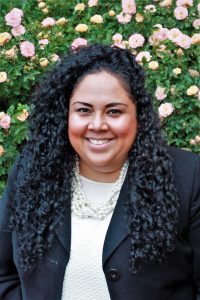 Nicki Sanders, MSW, CEO, is a travel and cupcake lover with an aptitude for authentic connection and career design. She has an extensive background in developing and managing successful programs and leading high-functioning multi-disciplinary teams. She is an accomplished professor, coach, trainer, and group facilitator who has merged her Master of Social Work degree and over 20 years of diverse work experience into a thriving business. Nicki Sanders Leadership Consulting helps businesses recruit and retain the best employees and helps women in mid-level management design the careers of their dreams.
© 2020 Copyright Protected. ALL RIGHTS ARE RESERVED.