Who do you know that has had the perfect career?
No one I know has had the perfect career.
Did you think you would have a Bachelor's degree but 22 and take on your first management role at 28 after earning your Master's degree and working your way up in your company for two years?
If only it were that simple. The real world rarely works that way. We all go through twists and turns that can sometimes shake our confidence and competence. You don't have to navigate your career journey alone.
Did you select a job based on salary instead of pursuing a career?
Earning potential is important, especially if you are a head of household. Many of us have turned down jobs we would love because the salary was too low. You can have a job that you love that also pays well.
Did you pursue the occupation that would make your parent's most proud?
I don't know that there is a perfect career but I do believe that there is a career that is perfect for you and I want to help you design and attain it.
Take some time to reflect on these career questions:
What does your perfect career look like?
What industry are you working in?
Who is your employer?
Where are you located?
What is your salary?
What benefits are important to you?
What are your work hours?
Who are your colleagues?
What are the qualifications required?
If you seek career clarity then my Career Journey Map is the perfect place to start. Then when you're wondering how to get to your next level, my Career Acceleration Strategy Session is the perfect follow up strategy.
NOW through June 30, 2020, you can register for my Coronavirus Career Acceleration Bundle that includes my Career Journey Map and Career Acceleration Strategy Session for $197.00. The combined value of this special offer is $394.00. Register TODAY! Don't miss out on an incredible savings of $197.00. Invest in yourself today.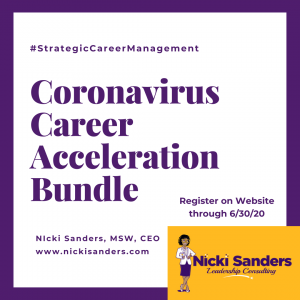 Nicki Sanders, MSW, CEO, is a travel and cupcake lover with an aptitude for authentic connection and career design. She has an extensive background in developing and managing successful programs and leading high-functioning multi-disciplinary teams. She is an accomplished professor, coach, trainer, and group facilitator who has merged her Master of Social Work degree and over 20 years of diverse work experience into a thriving business. Nicki Sanders Leadership Consulting helps businesses recruit and retain the best employees and helps women in mid-level management design the careers of their dreams.
© 2020 Copyright Protected. ALL RIGHTS ARE RESERVED.