First Lady Karen Woodson is a wife and mother of two children and two dogs. She developed her leadership skills as a young girl born in Washington, DC. Lady Karen's church upbringing and southern roots strengthened her natural leadership skills. She serves in her home, in her community, and in ministry as Church Administrator and the founder of the Women of Standard ministry. She has also served as couples enrichment co-chair, Nursery program director, and women's ministry co-chair at her former church. Lady Karen is also a member of Innovative Systems Engineering & Consulting.
Lady Karen worked for 10 years in the District of Columbia government and before becoming a homemaker as she raised her two children. She completed her Bachelor of Arts degree in Human Relations at Trinity Washington University with the intention of becoming a clinical counselor of women and marriages.
Lady Karen says that love is her leadership superpower. When asked what advice she has for women in leadership, Lady K cautions not to let anyone define them. She boldly stated that she is not defined by her failures nor her accomplishments because she is defined by who God says that she is.
Lady Karen's passion is to help transform the lives of others through practical knowledge of the word of God's unconditional love, to enhance the lives of everyone she encounters spiritually and emotionally, and to provoke change in their lives one step at a time.
I always love chatting with Lady K. I'm so excited to share this conversation with you where we discuss her commitment to supporting young women, the power of strong female relationships, self-care, and how she uses her leadership superpower.
If you or someone in your sister circle needs encouragement, this is the perfect interview.
LISTEN to the full Conversation with Nicki Sanders and Lady Karen Woodson BELOW.
Loading the player …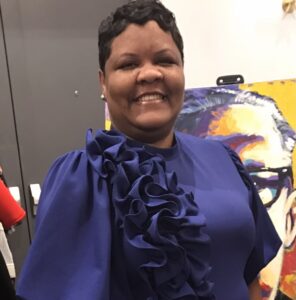 Nicki Sanders, MSW, CEO, is a Career and Empowerment Strategist who helps high-performing women of color in management go from overworked, underpaid, and unappreciated to energized, well paid, and appreciated. Through Nicki Sanders Leadership Consulting, she also helps businesses recruit, hire, train, and retain great employees. Nicki has an extensive background in developing and managing successful programs and leading high-functioning multi-disciplinary teams. She is an accomplished professor, coach, trainer, and group facilitator who has combined her gift for authentic relationships, Master of Social Work degree, and over 20 years of diverse work experience to create a life she loves. Nicki is a lover of cupcakes, travel, and 80's hip hop and R&B music.
© 2021 Copyright Protected. ALL RIGHTS ARE RESERVED.