I've been blessed with amazing sister family and friends!
I am an ardent supporter of women's groups and women-owned businesses. I believe wholeheartedly that 'sisterhood is self-care' – no one understands us like us.
The vast majority of my career has been dedicated specifically to the empowerment of women and girls. As a liaison and connector, I've hosted events, facilitated focus groups, led workshops, published interviews, taught classes, assembled dream teams, and overall provided safe spaces and platforms for women and girls to be vulnerable, be heard, and be rejuvenated. I LOVE IT!!
I MISS IT TOO! I've been feeling like sister connection and community have been missing for the last 2 years – since I transitioned out of my youth development job and we were thrust into pandemic quarantine. My professional network consists of women of various ages, races, ethnicities, religious beliefs, backgrounds, education levels, professions, personalities, and hobbies. I've known some women in my network for decades and others I've only connected with online. I can gather knowledge from women with PhDs and women with high school diplomas. I love being able to reach out to women CEOs, women in their first management roles, and women in college. I appreciate being able to talk to mothers, wives, and single women. I miss being in the regular presence of awesome women encouraging, empowering, and elevating each other. ⠀⠀
I revealed my feeling to a new sister-friend and 24 hours later I received a call from a long-time sister-friend who asked me to create a membership for professional women who have upleveled their positions and are in the midst of positive transitions – new job, new clients, new degree, etc. This was not the only unexpected and inspired communication I've had recently. My heart is filled with gratitude from the phone calls, text messages, and requests I've received over the last two weeks.

I love what I do and what I have done and it's so awesome when unexpected appreciation comes your way. I thank God for affirmation, confirmation, and validation that I am on the right path.
Empowered women empower women! If you're seeking mentorship, resources, accountability, new experiences, new opportunities, or want to provide the same for another sister, the power of a strong professional network cannot be ignored.
If you are a woman who doesn't have women friends, who has been the mean girl, or who has been burned by women, I wish you genuine, uplifting sisterhood in this phase of life. It's good for the soul!

SISTERS, ARE YOU READY TO CONNECT?!
Related: Conversation with Nicki Sanders and Karen Woodson, First Lady of Overcoming Power Ministries, Inc.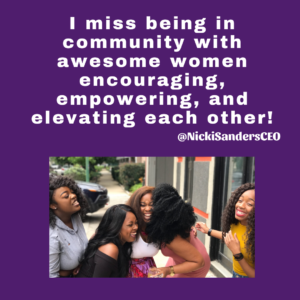 Nicki Sanders, MSW, CEO, is a Career and Empowerment Strategist who helps high-performing women of color in management go from overworked, underpaid, and unappreciated to energized, well paid, and appreciated. Through Nicki Sanders Leadership Consulting, she also helps businesses recruit, hire, train, and retain great employees. Nicki has an extensive background in developing and managing successful programs and leading high-functioning multi-disciplinary teams. She is an accomplished professor, coach, trainer, and group facilitator who has combined her gift for authentic relationships, Master of Social Work degree, and over 20 years of diverse work experience to create a life she loves. Nicki is a lover of cupcakes, travel, and 80's hip hop and R&B music.
© 2021 Copyright Protected. ALL RIGHTS ARE RESERVED.