"I gave it all I had", is the perfect description of how Kenice has approached life and her career and a perfect way to introduce you to this dynamite leader. Kenice Middleton is a cyber security expert by trade. She began her information technology career as an intern in the federal government. She is a senior leader who has led and managed both small and large teams as a federal employee and as a consultant. Kenice did not have any formal management training when she landed her first management role. What she had was a commitment to doing what is right and track record of successful task management support. She did not always seek out subsequent leadership roles but never shied away from the challenge. Kenice climbed to the top of the federal pay scale before going into private industry. After tiring of being passed over for Senior Executive Service (SES) positions, Kenice made the decision to leave an agency she loved for a position in a SES program. She was SES certified as Director of Security Risk management for the Internal Revenue Service before leaving the federal government.
Kenice succeeded in an industry dominated by White men. Kenice was often the only Black woman or person of color in many of her workplaces where she observed the way her colleagues navigated their careers. She didn't always have allies but adapted the success principles she observed. She knows that loneliness can increase as you climb the career ladder so her advice to women in leadership is to seek out successful people both inside and outside of your company for support. What she believes makes women good leaders is our natural nurturing ability and the caregiver role we often play in our families. She believes that the early exposure to responsibility makes women more compassionate, able to anticipate other's reactions, and think through the next steps in problem resolution. She also believes that women bring a balance between male and female perspectives into the workplace.
Kenice believes that you must be assertive and vocal to excel in your career. She has seen fear, nervousness, and hesitation limit her colleagues, direct reports, and mentees in the workplace – traits she did not possess. Kenice became a mother at a young age which she says helped fuel her confidence and commitment to career success. Kenice has thoughtfully chosen each of her jobs. She believes that being a mother led her to articulate her needs and desires without fear because she had to provide for her son. She understood that the worst thing that could happen was that she gets fired but she also ensured that she was doing a good job.
Although Kenice has volunteered to serve in an official mentorship role in her jobs because she finds value in helping people. Prior to that she operated in an unofficial capacity as more people inspired by her career success began to come to other for help and support. She was also asked by her son to assist his friends and classmates in high school and college. From these connections, other friends and colleagues began to direct people her way for career advice.
Kenice believes that her leadership superpower is that she is a great listener. She listens and doesn't just direct her team. She is also an advocate who is comfortable being a disruptor. Kenice will push and challenge the status quo to do the right thing and the best thing for her people.
What Kenice loves most about being a leader is seeing people succeed. She loves to see people grow and shine and enjoys supporting others in becoming great. She wants to take people on the success journey with her or see them excel beyond her accomplishments.
What Kenice wishes she had known before becoming a leader is that not everyone will be happy that you are in a leadership role – that includes both peers and supervisors. This was foreign to Kenice who is always happy for those who are doing well. She is an encourager who celebrates others' success and thought the same would happen for her. Kenice took it to heart and it weighed heavily on her when someone intentionally made her job difficult. Once she quickly recognized that her elevation was not being welcomed or celebrated, Kenice moved accordingly. Her advice is to practice self-care, keep going, and continue to believe in yourself.
Kenice has had rough managers. She has seen women operate from the belief that you have to be mean or be a dictator to get people to perform. The attitude that "no one will walk over me" can be destructive. What she has learned from a bad leader is that if people fear you and don't respect you that they will do what you say but won't follow you or trust you enough to tell you the truth. It can be disastrous when you your team hides important issues or information from you because of fear of punishment. People may also avoid you because of your behavior. Kenice has always committed to "just be me" in the workplace and that had led to her team members loving, trusting, and respecting her. They would do anything she asked of them because they knew she would do the same for them. Kenice is proud to cultivate environments where everyone "has each other's back".
Kenice has only accepted positions where she believed in the agency mission. When asked how she motivates her team, Kenice says that she is a high energy leader and cheerleader and gives people room to express themselves, use their talents, be creative, and ask questions. She believes in collaboration but will make executive decisions as needed. Realizing that she is not the only smart person in the room, Kenice believes in giving credit where credit is due. She believes that it is important for everyone, but especially women, to understand how they are showing up to other people. She believes that you can be better for yourself and your agency if you feel secure in your position. To eliminate insecurity and uncertainty, she advises women to begin with soul-searching and your own self-assessment following by 360 evaluations (anonymous if you really want to know truth). She wants women to remember that you are already strong, and you do no have to try to be someone else or do anything extra to prove yourself. People will respect you when you show up as your authentic self.
Kenice teaches undergraduate and graduate cybersecurity courses at University of Maryland Global Campus and University of Maryland, Baltimore County. She is also the Founder and CEO of WIN, LLC, where she offers consulting on diversity and inclusion, staffing, organizational assessment, cybersecurity, and plans to expand into coaching and mentoring to help companies ensure they have the right skillset inhouse and to also bring in the right people. She is running her company part-time with plans to launch into full-time entrepreneurship soon. Her website is under development.
Kenice cohosts Color Scheme podcast with her son Daniel (an entrepreneur who has successfully run a nonprofit organization and several business) where they cover a variety of business, career, and life topics. Tune into Color Scheme podcast on YouTube and Facebook.
Kenice understands the importance of exercise to calm your mind and previously included kickboxing and Bikram yoga in her self-care routine. She is returning to a more intentional focus on self-care and meditates daily while practicing mindfulness to break up the monotony of her day. She also gets plenty of rest and uses social media, magazines, and videos to shut her mind off.
Kenice is a cake lover but doesn't have a favorite cupcake place. In true Kenice fashion, she is open to trying new places.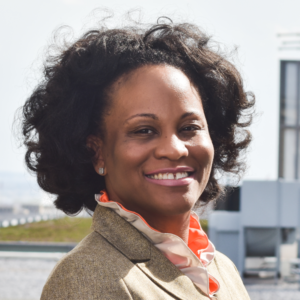 Nicki Sanders, MSW, CEO, is a travel and cupcake lover with an aptitude for authentic connection and career design. She has an extensive background in developing and managing successful programs and leading high-functioning multi-disciplinary teams. She is an accomplished professor, coach, trainer, and group facilitator who has merged her Master of Social Work degree and over 20 years of diverse work experience into a thriving business. Nicki Sanders Leadership Consulting helps businesses recruit and retain the best employees and helps women in mid-level management design the careers of their dreams.
© 2020 Copyright Protected. ALL RIGHTS ARE RESERVED.