Strategic Career Management is the lifelong process of investing resources into your career to maintain or increase your value in the workplace, undertake work that is personally satisfying, strive for work/life balance, and achieve financial security.
When you think about where you are currently, do you wonder if you should glow or increase your visibility in your current position, grow into a promotion, or go share your talents with a new employer?
My Career Journey Map includes a career questionnaire and 30-minute follow up session to discuss your career options. You will have career clarity at the end of your Career Journey Map session!
The regular investment for the Career Journey Map session is $97, but I'm offering a special Black Friday weekend offer of $59 through Monday, November 30, 2020 at 11:59pm.
Register for your Career Journey Map session so that you can launch into 2021 with clarity, courage, and certainty.
SPECIAL BONUSES for Small Business Saturday and Cyber Monday!
Career Activation Strategy Session: $149 investment
Career Achievement Log Toolkit: $17 investment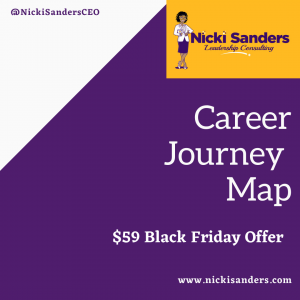 Nicki Sanders, MSW, CEO, is a travel and cupcake lover with an aptitude for authentic connection and career design. She has an extensive background in developing and managing successful programs and leading high-functioning multi-disciplinary teams. She is an accomplished professor, coach, trainer, and group facilitator who has merged her Master of Social Work degree and over 20 years of diverse work experience into a thriving business. Nicki Sanders Leadership Consulting helps businesses recruit and retain the best employees and helps women in mid-level management design the careers of their dreams.
© 2020 Copyright Protected. ALL RIGHTS ARE RESERVED.