Who Runs The World? Girls! Girls!
Conversations with Nicki Sanders is a regular blog feature of Nicki Sanders Leadership Consulting. Conversations with Nicki Sanders highlights the success strategies, advice, and career journeys of authentic women leaders in a variety of industries.
The goal of Conversations with Nicki Sanders is to:
Showcase women in leadership  
Share best practices in employee and intern recruitment and engagement
Offer strategies to increase productivity and performance
Promote a healthy work environment
Encourage self-care in professional women
Fun Fact #1: For over a decade, I have worked as Director of Programs in a youth development agency that provide services to over 500 middle and high school girls. In this position, I supervise a multi-disciplinary team of women college-educated women.
Fun Fact #2: I am also a Professor at a women's liberal arts college.
Women Leaders, Raise Your Hand!
Do you or someone you know identify with any of these professional categories?
Human Resources Manager
Executive Director
Dean of Students
Internship Manager
Social Work Administrator
CEO/Founder
Program Manager
President
Of course, the supervisor or manager job titles list doesn't end there! Leadership is diverse and not all leaders have fancy titles. I will be sharing unique journeys and authentic leadership styles.
Remember: She Believed She Could…So She Did!
So Ambitious Ladies…
Whether this is your first leadership position or you have been managing people for decades.
Whether you lead in a nonprofit organization or run a Fortune 500 company.
Whether you are managing interns or afraid to work with emerging professionals.
I will be seeking you out and inviting you to be interviewed for Conversations With Nicki Sanders: Women In Leadership!
Stay tuned…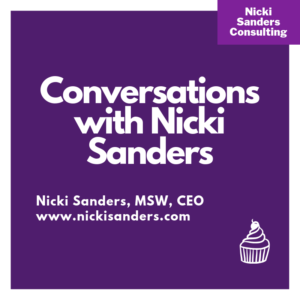 Nicki Sanders, MSW, is a travel and cupcake lover with a passion for self-discovery and career advancement. She has an extensive background in developing and managing interns and successful internship programs. She is an accomplished supervisor, professor, coach, trainer, and group facilitator who has merged her Master of Social Work degree and 20 years of diverse work experience into a thriving business. Nicki Sanders Consulting helps businesses increase employee recruitment and retention and helps managers uplevel their leadership skills.
© 2019 Copyright Protected. ALL RIGHTS ARE RESERVED.