Everyone who knows me knows that I love cupcakes!
December 15th is National Cupcake Day which celebrates my favorite dessert – the single serving cake baked in a paper or aluminum cup and topped with icing or other cake decorations.
FYI: Chocolate Cupcake Day which falls on October 18th
Fun Fact: Cupcakes used to be baked in teacups
Celebrate National Cupcake Day by taking pictures of your delicious dessert and posting the pictures on social media using the hashtag #NationalCupcakeDay.
If you follow me on social media, you know that each month I have a cupcake from a different bakery and that when I travel, I try to find a new bakery in each location. You can follow my cupcake journey by following these hashtags: #NickiLovesCupcakes #cupcakeofthemonth #bakeryofthemonth
My 2018 Cupcake of the Month Journey

January – Buzz Bake Shop – Arlington, VA
February – Lavender Moon Cupcakery – Alexandria, VA
March – Cup Love – Baltimore, MD
April – Smallcakes A Cupcakery – Albuquerque, NM
May – Last Crumb of Cake – Gaithersburg, MD
June – Au Bon Pain Bakery – Washington, DC
July – Sweet and Natural Vegan Café – Washington, DC
Sugar Art Custom Cakes & Sweets – Lumberton, NC
August – Magnolia Bakery – Waco, TX
Fluellen Cupcakes – Dallas, TX
September – Sticky Fingers – Washington, DC
October – Lancaster Cupcakes – Lancaster, PA
November – Grandview Bakery – Pittsburgh, PA
December – Buttercream Bake Shop – Washington, DC
2019 Cupcake of the Month?
Contact me by email or social media if you want to make recommendations for bakeries I should visit in 2019.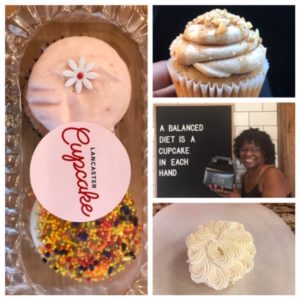 Nicki Sanders, MSW, is a travel and cupcake lover with a passion for self-discovery and career advancement. She has an extensive background in developing and managing interns and successful internship programs. She is an accomplished manager, professor, coach, trainer, and group facilitator who has packaged her Master of Social Work degree and 20 years of diverse work experience into Packaged For Success Enterprises, a full-service training and professional development company.
© 2018 Copyright Protected. ALL RIGHTS ARE RESERVED.