Management Tip: Never neglect your own professional development.
"Reading a book about management isn't going to make you a good manager any more than a book about guitar will make you a good guitarist, but it can get you thinking about the most important concepts." – Drew Houston
Aspiring Managers
The 7 Habits of Highly Effective People by Stephen R. Covey
How To Win Friends and Influence People by Dale Carnegie
Never Eat Alone by Keith Ferrazzi
"Success in management requires learning as fast as the world is changing." -Warren Bennis
New Managers
Who Moved My Cheese? by Spencer Johnson
7 Habits for Managers by Stephen R. Covey
The 21 Irrefutable Laws of Leadership by John C. Maxwell
"Great leaders don't set out to be leaders. They set out to make a difference." -Jeremy Bravo
Seasoned Managers
Why Employees Don't Do What They Are Supposed to Do and What to Do About It by Ferdinand F. Fournies
The Dream Manager by Matthew Kelly and Patrick Lencioni
Outliers by Malcolm Gladwell
"The best project you will ever work on is you."
Join Marvelous Managers, Successful Supervisors free, closed Facebook group created and hosted by me to help managers/supervisors/entrepreneurs/small business owners enhance their management skills and grow their businesses.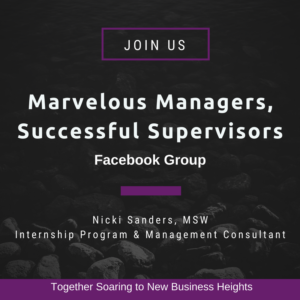 Nicki Sanders, MSW, is a travel and cupcake lover with a passion for self-discovery and career advancement. She has an extensive background in developing and managing interns and successful internship programs. She is an accomplished manager, professor, coach, trainer, and group facilitator who has packaged her Master of Social Work degree and 20 years of diverse work experience into Packaged For Success Enterprises, a full-service training and professional development company.
© 2018 Copyright Protected. ALL RIGHTS ARE RESERVED.