If you are a regular reader of my blog or you follow me on social media, then you know that I love cupcakes. I have a serious sweet tooth and although I am grateful for the cupcake trend that allows me to purchase cupcakes every place I visit, I loved cupcakes before they were trendy.  I also love working with interns.
I am hoping that paying interns and providing them meaningful professional experiences will catch on like a hot trend but will become a regular business practice and not a fad. Internship program are mutually beneficial for both the employer and the intern when launched and managed properly.
When I talk to employees and managers about their fears and reservation about working with interns I learn that many have had negative experiences with interns. Interns can have a positive impact on your business by allowing you to bring in extra workers with fresh ideas to increase productivity and performance. Not working with interns because of one bad intern is very similar to not hiring employees because of one bad employee.  What does that have to do with interns?
I will use the example of cupcakes to further explain. You can walk into almost any cupcakery and find a variety of cupcakes – different flavors, different sizes, different decorations or toppings, and for different occasions.
Ingredients
Different cupcakes are made with different ingredients. Some can be mad e with all natural while others can be gluten free.  The ingredients that are combined to make a cupcake are like an intern's hard skills. Hard skills are measurable and include professional experiences, training, and education. Each intern is made up of a different set of ingredients.
Flavors
There are endless cupcake flavors available. Often flavors are combined into one cupcake like lemon-strawberry for example. Cupcake flavors can be compared to an intern's unique interests and affiliations that they bring to a company.  Although interns may have one or more of the same flavors, the final product can be very different. Think chocolate brownie versus chocolate coconut.
Decorations
Cupcakes can be made with the same ingredients on the inside but decorated very differently on the outside. Cupcake decorations can represent your intern's soft skills. Soft skills are personal attributes that dictate how people interact and engage with others.  How a cupcake is decorated (or shows up in the world) may entice one person and turn off another – just like your intern's personality.
Occasion
I'm a firm believer that a cupcake is appropriate for any occasion – birthday, new job, bridal shower, retirement, new baby, new home, and just because. A cupcake occasion is representative of the different perspectives and ideas that interns bring.
A cupcake is a food item and an intern is a human being. An intern is a real person with real goals, feelings, and expectations.  A cupcake is created for one purpose and one purpose only – to be eaten. Interns have different purposes and destinies. Unlike a cupcake, a manager can't follow the same recipe with every intern and get the same results. Every intern should be treated as an individual.
Here are a few more tips for managing interns:
Be clear and consistent in your expectations of interns.
Be flexible in how work is completed if the desired result is achieved
Do not compare interns to each other. Remember each intern is a unique individual with different perspectives, experiences, education, and abilities.
Learning your interns learning style can help you set them up for success.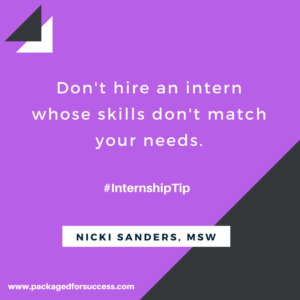 Nicki Sanders, MSW, is a travel and cupcake lover with a passion for self-discovery and career advancement. She has a strong background in developing and managing interns and successful internship programs. She is an accomplished manager, professor, coach, trainer, and group facilitator who has packaged her Master of Social Work degree and 20 years of diverse work experience into Packaged For Success Enterprises, a full service training and professional development company.
© 2018 Copyright Protected. ALL RIGHTS ARE RESERVED.