What comes to mind when you hear the words "Middle Manager"?
Do you think of "middleman" – the unnecessary person in the middle who can be removed from the equation?
Do you think of hard work?
Do you think of being stuck between a rock and a hard place?
When I was a direct service worker/frontline staff I was promoted to Assistant Director. I moved on from that position because I did not want my boss' job.
As a Director of Programs in a thriving nonprofit organization, "middle management" was exactly where I wanted to be. Every day was a new opportunity to learn, impart, impact, and excel. I had the best of both worlds. I was able to influence the vision, direction, and standing of the organization while also working directly with the employees who were doing the day to day work. I was an integral part of the rebrand and expansion and had the opportunity to develop new programs and work directly with amazing teen girls on special projects and activities throughout each year. I had the opportunity to recognize, develop, and strengthen skills I did not know that I had when I began in 2008. During my tenure, I had also already begun to teach part-time at the college level. My truth is that I have gone as far as I imagined and planned as an employee. I never wanted to be an Executive Director. I never wanted my boss' job. I did not want to move into private industry or return to the federal government or transition into a larger nonprofit organization. I had literally crafted the career of my dreams. I knew that the next step for me was full-time entrepreneurship.
Many of the years I operated what could be considered a (hobby) business on the side, I was not ready for full-time entrepreneurship. As I dipped my toes into entrepreneurship over the last ten years, I was bombarded with three persistent and unhelpful messages.
If you're a part-time entrepreneur, then you aren't really an entrepreneur.
Maintain your employment and let your job fund your side hustle.
Feel the fear and do it anyway – just the leap.
Today, I want to speak to the manager who wants to strengthen her management skills and advance her leadership career. The manager who isn't ready to leave her 9-5. The manager who is trying to drown out the noise. I want you to know that there are strategies you can implement to make your current position truly yours. There are ways to breathe your breath and unique perspective into your job. If you are a supervisor who is ready to seek a promotion or a higher-level position with a new company, there are strategies to move you further on that path.
Bold Authenticity Seminars provide career advancement strategies to help women in leadership advance in their current job and on their journey to their next level.
Our October 23, 2019, Bold Authenticity Seminar (virtual)topicis "How to Increase Your Confidence, Competence, and Credibility as a Woman in Leadership".
Bold Authenticity Monthly Leadership Seminars
4th Wednesday of each month
1:00pm
REGISTER for our October Bold Authenticity Seminar topic is "How to Increase Your Confidence, Competence, and Credibility as a Woman in Leadership" at a one-time special launch rate of $129.00. Regular investment is $197.00. Our October session will be virtual.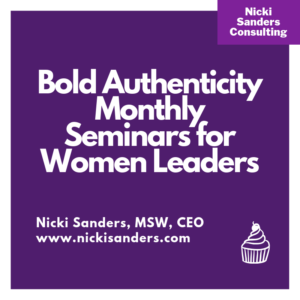 Nicki Sanders, MSW, is a Leadership and Career Strategist who helps mid and senior level women leaders develop the confidence, competence, and credibility to lead with authenticity and boldness. She has an extensive background in leading multi-disciplinary teams, developing and managing programs, and forming public-private partnerships. She is a college professor with a passion for teaching and mentoring the next generation of leaders. Nicki is an accomplished supervisor, trainer, and group facilitator who has merged her Master of Social Work degree and over 20 years of diverse work experience into a thriving business. Nicki Sanders Leadership Consulting assists companies in expanding their influence and impact by enhancing employee recruitment, increasing employee morale and performance, and decreasing employee turnover. Nicki is a travel and cupcake lover who also enjoys reading, listening to music, and serving her community.