Bold Authenticity Monthly Leadership Seminars launches on Wednesday, October 23, 2019 at 1:00pm.
'Sure he was great, but don't forget that Ginger Rogers did everything he did…backwards and in high heels.' – Bob Thaves, Cartoonist
Do you remember this nursery rhyme?
What are little boys made of?
Snakes and snails and puppy-dogs' tails;
That's what little boys are made of.

What are little girls made of?
Sugar and spice, and everything nice;
That's what little girls are made of.
Traditionally, little girls are taught to be humble, sweet, and helpful. As a part of your leadership toolbox, these traits can be valuable. Attentiveness, collaboration, and the ability to multi-task can provide women a competitive advantage in the workplace. If sugar and spice and everything nice are your standalone leadership tools, then you have a serious problem. Women in leadership also need to be made of bounce, boldness, and boundaries.
INTRODUCING…
Bold Authenticity Monthly Seminars for Women Leaders!
4th Wednesday of each Month
1:00pm
REGISTER for Bold Authenticity Monthly Leadership Seminars to take part in training that highlights innate leadership traits women possess and combines them with traditional leadership strategies to help women become more bold, authentic, effective, and influential leaders.
Personal and professional development are essential to career elevation. Join me each 4th Wednesday of the month to equip yourself with the tools to identify your personal leadership style, establish yourself as a leader, set realistic career and team goals, challenge weak female stereotypes, navigate office politics, delegate with intention, and strengthen your problem-solving, decision-making, and conflict-resolution skills.
No woman is an island. Your registration and participation in these monthly seminars will also help you nurture and leverage your professional network to grow your leadership career.
REGISTER for our October Bold Authenticity Seminar topic is "How to Increase Your Confidence, Competence, and Credibility as a Woman in Leadership" at a one-time special launch rate of $129.00. Regular investment is $197.00. Our October session will be virtual.
A leader is who you are. Leading is what you do – at home, in the workplace, and in your community.
Believe In Yourself – Perfect Your Craft – Operate In Integrity
Shouting, fear and threats won't make you a strong leader. Puling rank means that you have already lost control. You aren't a leader if no one is willing to follow you. Leadership is not a title or a position. True leadership is earned and continually cultivated.
Let's Do This Ladies!
REMINDER: Bold Authenticity Monthly Leadership Seminars kicks off on 10/23/19 at 1:00pm!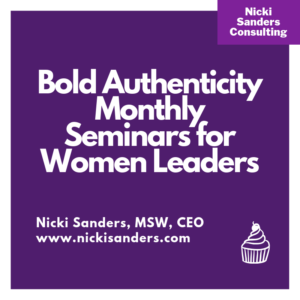 Nicki Sanders, MSW, is a Leadership and Career Strategist who helps mid and senior level women leaders develop the confidence, competence, and credibility to lead with authenticity and boldness. She has an extensive background in leading multi-disciplinary teams, developing and managing programs, and forming public-private partnerships. She is a college professor with a passion for teaching and mentoring the next generation of leaders. Nicki is an accomplished supervisor, trainer, and group facilitator who has merged her Master of Social Work degree and over 20 years of diverse work experience into a thriving business. Nicki Sanders Leadership Consulting assists companies in expanding their influence and impact by enhancing employee recruitment, increasing employee morale and performance, and decreasing employee turnover. Nicki is a travel and cupcake lover who also enjoys reading, listening to music, and serving her community.