On Sunday, September 22, I attended the Sweet Summer "Bakers & Treat Makers" Expo. The first Bakers Are Kreating Expo was a day to "experience all things sugar from shopping to eating to learning to competing". Baltimore's first dessert expo brought together sweet lover, sugar enthusiasts, bakers, cake makers, and sugar artist to indulge themselves in music, sweets, family friendly fun, food, raffle prizes, and cupcake competitions.
The expo tables were filled with desserts ranging from candy-coated marshmallows, to puddings, pies, cookies, cakes, and of course cupcakes. With such a huge assortment of desserts, I left with two cupcakes. (No surprise there, right LOL) Before I selected the two "winning" cupcakes, I sampled a few sweet treats.
As you know, I take my cupcakes very seriously. Appearance, flavor, taste, smell, and the cupcake's background are important. The cupcake's background includes the baker and bakery or kitchen who produced it. I also take hiring very seriously. A good hire can sky-rocket your company and a bad hire can put it on a path to destruction.
Let me tell you how selecting a good cupcake is like hiring a good employee.
Steps to Selecting a Cupcake:
I determined my need (or craving).
I determined how I would fill the need (attend Bakers Are Kreating Expo)
I created a plan/prepared accomplish the task (driving to Bakers Are Kreating Expo after church)
I visited different dessert tables
I sampled various desserts
I decided which places I would purchase cupcakes from
I made the purchases
I ate the cupcakes (which were delicious, might I add)
Steps to Hiring an Employee:
Identify your employee need and create a job description
Decide where to recruit candidates
Plan/prepare interview process and questions
Review resumes and employment documents
Eliminate the candidates who don't meet your need
Screen and interview candidates who meet criteria
Select best candidate and offer them the position
Onboard your new hire
Please contact me if you need help with recruitment, screening, hiring, and onboarding staff.
NICKI'S NOTES:
Conversations with Nicki Sanders interviews highlight the success strategies, advice, and career journeys of authentic women leaders in a variety of industries.
Cupcakes and Conversations with Nicki Sanders is a monthly virtual networking session for women in leadership that launches on October 9, 2019.
Cupcakes and Conversations with Nicki Sanders LIVE takes the leadership conversations on the road for networking, question and answer sessions, career chats, and delicious cupcakes.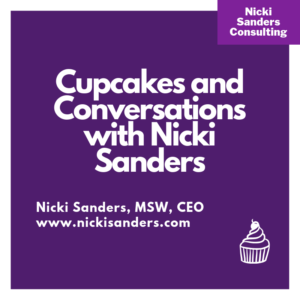 Nicki Sanders, MSW, is a Leadership and Career Strategist who helps mid and senior level women leaders develop the confidence, competence, and credibility to lead with authenticity and boldness. She has an extensive background in leading multi-disciplinary teams, developing and managing programs, and forming public-private partnerships. She is a college professor with a passion for teaching and mentoring the next generation of leaders. Nicki is an accomplished supervisor, trainer, and group facilitator who has merged her Master of Social Work degree and over 20 years of diverse work experience into a thriving business. Nicki Sanders Leadership Consulting assists companies in expanding their influence and impact by enhancing employee recruitment, increasing employee morale and performance, and decreasing employee turnover. Nicki is a travel and cupcake lover who also enjoys reading, listening to music, and serving her community.