Years ago, competition was the "Big C". We were all competing to get to the "top". Competition showed up in many ways from unnecessary academic pressure put on students to nonprofit organizations fighting over small amounts of funding that generated little impact, to women not trusting other women in the workplace. Today, the "Big C" stands for collaboration. We understand that the 21st century skills students need to succeed include teamwork and social emotional learning, that two agencies combining efforts allows them to reach a larger audience and to go deeper – not just wider, and that we, as women, are stronger together.
I am a CEO who is also a mother, a daughter, and a sister. I am a professor at a Women's University. I have dedicated my career to programs, agencies, and activities that support women and girls for over 20 years. Sisterhood is important to me!! Amongst other things, Sisterhood is built on collaboration. We are truly interdependent.

What does collaboration look like for Nicki Sanders Leadership Consulting?

-Collaboration looks like "Social Work Sisters" joining forces to provide career workshops for undergraduate and graduate social work students and recent graduates.
Coffee and Cases: What You Didn't Learn in Social Work School about Building a Successful Social Work Career
Laila El-Asmar, LCSW-C and Nicki Sanders, MSW, are joining together for two sessions to deliver to students and grads the truth about social work that you can't learn from a textbook or in a BSW or MSW classroom. Get ready for dynamic discussion and interactive exercises. Session one will answer your questions about field placements, degree concentrations/tracks, licensing, and whether social work really is the right field for you. Session two gets down to the nitty gritty to discuss the challenges many graduates face in launching and building a long-term social work career. Register on Eventbrite.
Session 1: The What, Why and How of Social Work – October 7, 2019
Session 2: Where Can Social Work Take Me? – November 4, 2019
Location: Filicori Zecchini – Park Potomac
12430 Park Potomac Avenue
Potomac, MD 20854
5:00pm – 6:30pm

-Collaboration looks like my upcoming Conversations with Nicki Sanders interview with Tammie Mobley of Flawless Imperfections.
Conversations with Nicki Sanders are interviews that highlight the success strategies, advice, and career journeys of authentic women leaders in a variety of industries.
-Collaboration looks like the launch of Cupcakes and Conversations with Nicki Sanders free virtual chat for professional women.
Cupcakes and Conversations with Nicki Sanders launches at 1:00pm on Wednesday, October 9,2019.  It's time for Boss Ladies to elevate our confidence, competence, and credibility as women in leadership! Cupcakes and Conversations with Nicki Sanders is a FREE monthly virtual networking session on Facebook Live for professional women. Each month I will facilitate a virtual chat on my Nicki Sanders Leadership Consulting Facebook page about leadership, sisterhood, and careers. This is an opportunity to learn and grow with a circle of amazing women leaders. 
Our October topicis "What Every Woman in Leadership Needs to Succeed".
-Collaboration looks like my kick-off Bold Authenticity Seminar that will be held virtually on Wednesday, October 23, 2019 at 1:00pm.
Bold Authenticity Monthly Leadership Seminars highlight the innate leadership traits women possess and combines them with traditional leadership strategies to help women become more bold, authentic, effective, and influential leaders. Join me each 4th Wednesday of the month to equip yourself with the tools to identify your personal leadership style, establish yourself as a leader, set realistic career and team goals, challenge weak female stereotypes, navigate office politics, delegate with intention, and strengthen your problem-solving, decision-making, and conflict-resolution skills. Your registration and participation in these monthly seminars will also help you nurture and leverage your professional network.
REGISTER for our October Bold Authenticity Seminar. Our topic is "How to Increase Your Confidence, Competence, and Credibility as a Woman in Leadership" on my website at a one-time special launch rate of $129.00. Regular investment is $197.00. Our October seminar will be virtual.
See You Soon Sister!!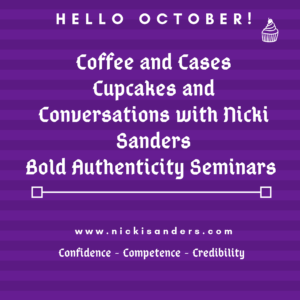 Nicki Sanders, MSW, is a Leadership and Career Strategist who helps mid and senior level women leaders develop the confidence, competence, and credibility to lead with authenticity and boldness. She has an extensive background in leading multi-disciplinary teams, developing and managing programs, and forming public-private partnerships. She is a college professor with a passion for teaching and mentoring the next generation of leaders. Nicki is an accomplished supervisor, trainer, and group facilitator who has merged her Master of Social Work degree and over 20 years of diverse work experience into a thriving business. Nicki Sanders Leadership Consulting assists companies in expanding their influence and impact by enhancing employee recruitment, increasing employee morale and performance, and decreasing employee turnover. Nicki is a travel and cupcake lover who also enjoys reading, listening to music, and serving her community.