I'm Nicki Sanders. A Career Strategist, Hiring Manager, and Professor who built the career and business of my dreams. I've experienced self-doubt as I pondered how to advance my career. I know what it's like to sit in overwhelm and frustration as you prepare to update your resume and cover letter. I have walked away from job interviews wishing I had shared one more example of my skills or work experience. I've let time slip away because I was too busy to focus on my career. This does NOT have to be your story as well.
I created the Career Achievement Log Toolkit to help you document your accomplishments, alleviate resume stress and give you an immediate confidence boost.
The Career Achievement Log Toolkit consists of three (3) methods to document your accomplishments so that you can choose the method that is best for you. A Printable Template to document by hand along with two electronic options – a spreadsheet and a fillable PDF. The Career Achievement Log Toolkit also includes a Confidant Interview resource sheet and a Resume/Cover Letter tip sheet to ensure that your documentation is as comprehensive as possible.
Printable Template – $27
Fillable Spreadsheet – $37
Fillable PDF – $29
Interview Resource Sheet – $19
Resume/Cover Letter Tip Sheet – $17
Total Value: $129
Your Investment Through August 18, 2020: $17
The Career Achievement Log Toolkit is perfect for new and experienced professionals:
Job Hunters – Develop a framework for guiding your career.
Promotion Hopefuls – Put yourself in the driver's seat of your career.
Career Changers – Develop your competitive advantage.
Entrepreneurs – If you stay ready you don't have to get ready.
Eliminate mental clutter, eliminate job search frustration and save yourself time. Build a powerful collection of your work to showcase your uniqueness and increase your confidence.
REMEMBER: The $17 introductory investment increases to $27 after August 18th.
It's Time To Accelerate Your Career!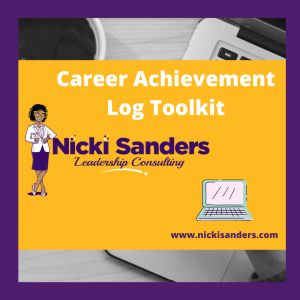 Nicki Sanders, MSW, CEO, is a travel and cupcake lover with an aptitude for authentic connection and career design. She has an extensive background in developing and managing successful programs and leading high-functioning multi-disciplinary teams. She is an accomplished professor, coach, trainer, and group facilitator who has merged her Master of Social Work degree and over 20 years of diverse work experience into a thriving business. Nicki Sanders Leadership Consulting helps businesses recruit and retain the best employees and helps women in mid-level management design the careers of their dreams.
© 2020 Copyright Protected. ALL RIGHTS ARE RESERVED.