Potential and current employers are interested in what you can do for them. They want to know what you bring to the table. A Career Achievement Log is a resource where your skills, successes and accomplishments are recorded. It is the evidence that you have what you need to succeed professionally.
3 Reasons You Need a Career Achievement Log:
Help quantify your achievements and successes. Numbers and quantifiable results have high impact and allow you to stand out in crowded industries. Organization is key. Creating a career achievement log puts your data right at your fingertips and allows you to create a powerful results-based resume and more easily update other employment materials.
Determine your unique value proposition. Being the process to build a powerful collection of your work that showcases your distinctive traits, skills, and experiences. A Career Achievement Log simplifies the process of selecting impactful career experiences and making a strong impression during job interviews and performance evaluation meetings.
Increase your confidence. Your achievement log will likely result in increased confidence as you reflect and record your career victories. Having all of your work accomplishments in one place will serve as a reminder and encouragement when needed.
The Career Achievement Log Toolkit Introductory Promotion Ends on Tuesday, August 18, 2020. Don't Miss Out!
The Career Achievement Log Toolkit consists of three (3) methods to document your accomplishments so that you can choose the method that is best for you. You can own a career tool that is comprehensive, convenient and portable. Printable Template to document by hand along with two electronic options – a spreadsheet and a fillable PDF. The Career Achievement Log Toolkit also includes a Confidant Interview resource sheet to gather feedback from others and a Resume/Cover Letter tip sheet to ensure that your employment documentation is as comprehensive as possible.
Printable Template – $27
Fillable Spreadsheet – $37
Fillable PDF – $29
Interview Resource Sheet – $19
Resume/Cover Letter Tip Sheet – $17
Total Value: $129
Regular Investment: $27
Your Introductory Investment Through August 18, 2020: $17
Are you ready to take strategic action?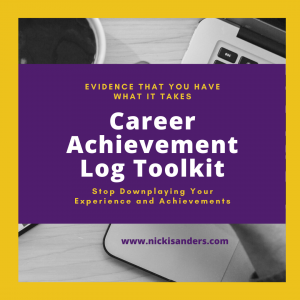 Nicki Sanders, MSW, CEO, is a travel and cupcake lover with an aptitude for authentic connection and career design. She has an extensive background in developing and managing successful programs and leading high-functioning multi-disciplinary teams. She is an accomplished professor, coach, trainer, and group facilitator who has merged her Master of Social Work degree and over 20 years of diverse work experience into a thriving business. Nicki Sanders Leadership Consulting helps businesses recruit and retain the best employees and helps women in mid-level management design the careers of their dreams.
© 2020 Copyright Protected. ALL RIGHTS ARE RESERVED.