You are a brand and your career is your business. -Nicki Sanders, MSW, CEO
What does it mean to be a brand?
A brand is a perception – the way a company, organization, or individual is perceived by those who experience it. It is how you represent yourself in the workplace. As a professional, your brand is the identifying traits, symbols, or words that distinguish you from others. Your brand is your most valuable professional asset.
I practice what I preach by taking my work and my professional reputation seriously. I would say that 99% of the people who have worked with me over the last 25 years will tell you that I am resourceful, dedicated, compassionate, and professional (or other synonymous words).
When an employee (that I never should have hired) made false accusations about me, no one working with me believed the person and my team came to my defense. 
The 'running joke' is that I am a 'professional kidnapper' because my former staff and interns can't leave me. It is because of the mutual respect, admiration, and love that we have that they don't leave. I have hired three former employees twice and countless other former employees and interns have returned to work with me on short-term consulting projects.
When I called a person I hadn't worked with in over a decade to let them know that I had left my full-time job they offered me a consulting position that they had been trying to fill.
I was recommended by my Department Chair to teach a course in another department. (I've never had a problem securing letters of recommendation).
I am not saying this to brag, but to highlight the importance of being and living your brand. Your words and actions – whether negative or positive – speak for you. Act accordingly!
Because you're reading this article I believe that you are not the employee who is always tardy, has a negative attitude, or submits sloppy work, but I want to challenge you to set aside some quiet time to answer the following three questions:
What is your unique value proposition?
What is your brand? 
What are you the go to person for?
A Career Achievement Log will make this exploratory process less challenging. The Career Achievement Log Toolkit consists of three (3) methods to document your accomplishments so that you can choose the method that is best for you. You can own a career tool that is comprehensive, convenient and portable.  Printable Template to document by hand along with two electronic options –  a spreadsheet and a fillable PDF. The Career Achievement Log Toolkit also includes a Confidant Interview resource sheet to gather feedback from others and a Resume/Cover Letter tip sheet to ensure that your employment documentation is as comprehensive as possible.  
Printable Template – $27
Fillable Spreadsheet – $37
Fillable PDF – $29
Interview Resource Sheet – $19
Resume/Cover Letter Tip Sheet – $17
Total Value: $129
Your Investment: $27
How are you handling your business?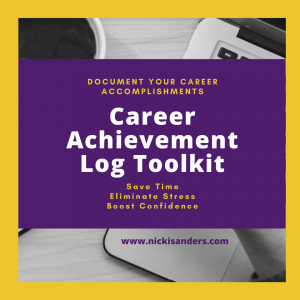 Nicki Sanders, MSW, CEO, is a travel and cupcake lover with an aptitude for authentic connection and career design. She has an extensive background in developing and managing successful programs and leading high-functioning multi-disciplinary teams. She is an accomplished professor, coach, trainer, and group facilitator who has merged her Master of Social Work degree and over 20 years of diverse work experience into a thriving business. Nicki Sanders Leadership Consulting helps businesses recruit and retain the best employees and helps women in mid-level management design the careers of their dreams.
© 2020 Copyright Protected. ALL RIGHTS ARE RESERVED.