COVID-19 has resulted in millions of Americans filing for unemployment, thousands of businesses closing, and millions of other employees hanging in career limbo wondering if or when their job will be eliminated. What can we do?
If you are blessed to still be gainfully employed at this stage of this global health pandemic, don't rely on your past performance. The traditional career ladder no longer exists. Results matter. Transferable skills are essential to survival in the current workplace. You will also need to stand out from the crowd. Assess your assets, uplevel your skills, reconnect your connections, and document your achievements so that you are ready to leverage new opportunities that may be presented to you.
Have you been integral in helping your employer pivot and thrive during COVID-19?
Now is the time to compile the evidence of your contributions – flexibility, innovation, dedication, and elevation. The skills and experience you develop during this difficult time will increase your career options, negotiating power, and earning potential.
Here are a few examples of how employees have become integral to their company's success in weathering the Coronavirus pandemic:
Assist in the development of the telework policy
Determine the best technology for remote work
Train colleagues on new technology
Initiate an employer support program
Develop an emergency communication plan
Deliver training on trauma
Help secure new clients or new funding
Be a part of the office reopening team
A Career Achievement Log is the perfect place to document your coronavirus career pivot, newly acquired skills and responsibilities, and resourcefulness and adaptability. With a Career Achievement Log you can save yourself time as you begin a new job search, quantify your work accomplishments, create a resume that stands out from the competition, and establish your unique professional identity. 
The Career Achievement Log Toolkit consists of three (3) methods to document your accomplishments so that you can choose the method that is best for you. You can own a career tool that is comprehensive, convenient and portable. Printable Template to document by hand along with two electronic options – a spreadsheet and a fillable PDF. The Career Achievement Log Toolkit also includes a Confidant Interview resource sheet to gather feedback from others and a Resume/Cover Letter tip sheet to ensure that your employment documentation is as comprehensive as possible.
Printable Template – $27
Fillable Spreadsheet – $37
Fillable PDF – $29
Interview Resource Sheet – $19
Resume/Cover Letter Tip Sheet – $17
Total Value: $129 Your Investment: $27
The Career Achievement Log Toolkit is an essential component on your Coronavirus career path. Get yours today.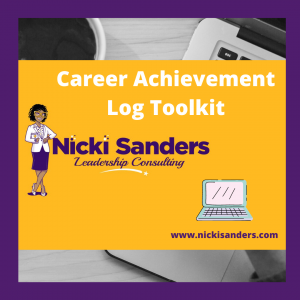 Nicki Sanders, MSW, CEO, is a travel and cupcake lover with an aptitude for authentic connection and career design. She has an extensive background in developing and managing successful programs and leading high-functioning multi-disciplinary teams. She is an accomplished professor, coach, trainer, and group facilitator who has merged her Master of Social Work degree and over 20 years of diverse work experience into a thriving business. Nicki Sanders Leadership Consulting helps businesses recruit and retain the best employees and helps women in mid-level management design the careers of their dreams.
© 2020 Copyright Protected. ALL RIGHTS ARE RESERVED.