SAVE THE DATE!
Bring your donations of new/gently used purses and personal hygiene items to our annual Purse Packing Party.
Saturday, December 10, 2016
1:00pm-3:00pm
Laurel Boys and Girls Club
701 Montgomery St., Laurel, MD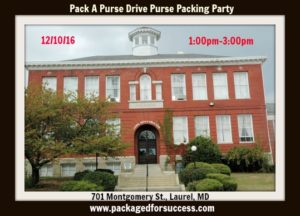 Our 10th Annual Pack A Purse™ Drive goal is to collect 1,000 purses which will be delivered to teen girls in group homes, foster homes, and homeless shelters in the Baltimore/Washington metropolitan area before Christmas Day.
 New/gently used purses will be accepted.
Only new personal hygiene items: toothbrush, toothpaste, mouthwash, deodorant, soap, lotion
Also accepting: shampoo, lotion, lip balm, hand sanitizer, feminine hygiene products
Large plastic holiday gift bags needed.
Mailing Address: PO Box 6368, Columbia, MD 21045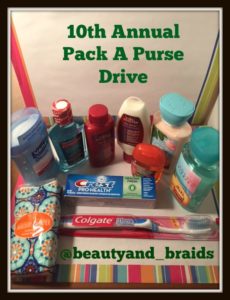 Volunteers Needed:
Adults, families with children, sports team, youth troops, and social organizations invited to volunteer to sort and pack purses.
Volunteer delivery drivers to deliver donations also needed.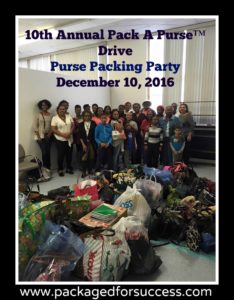 Since 2007, JaMai and Packaged For Success (formerly The Teen Toolbox) have collected and delivered 3,895 purses to 49 organizations that serve teen girls in foster homes, group homes, and homeless shelters.

Nicki Sanders, The Packaged For Success Coach, is an Adjunct Professor with an extensive background in developing and managing internship programs. She is a skilled program manager, coach, trainer, and group facilitator who has packaged her Masters of Social Work degree and 20 years of work experience into Packaged For Success, a full service training and professional development company.
© 2016 Copyright Protected. ALL RIGHTS ARE RESERVED.