November is National Adoption Month which was created to raise awareness for children and youth in foster care who are waiting for permanent families. In 2014, more than 22,000 young people — whom states failed to reunite with their families or place in permanent homes — aged out of foster care, simply because they were too old to remain.  The odds are stacked against a teen who ages out of foster care without a permanent family.
Our 10th Annual Pack A Purse™ Drive begins November 1, 2016 and ends December 5, 2016. We are collecting purses (totes and other handbags) and personal hygiene items for teen girls in foster homes, group homes, and homeless shelters. We want to raise awareness about the needs of older teens to be adopted and also show them that we care.
Our goal is to collect 1,000 purses and fill with personal hygiene items which will be delivered before Christmas Day.
If you are traveling for Thanksgiving please consider donating your unopened hotel toiletries to Pack A Purse Drive.
If you are a Black Friday shopper we hope you will check out the hot deals on pampering and bath and body products to donate to Pack A Purse Drive.
Only new and gently used purses will be accepted.
New personal hygiene items needed: toothbrush, toothpaste, mouthwash, deodorant, soap, lotion
We will also accept: shampoo, lotion, lip balm, and hand sanitizer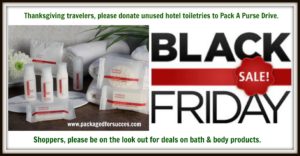 Nicki Sanders, The Packaged For Success Coach, is an Adjunct Professor with an extensive background in developing and managing internship programs. She is a skilled program manager, coach, trainer, and group facilitator who has packaged her Masters of Social Work degree and 20 years of work experience into Packaged For Success, a full service training and professional development company.
© 2016 Copyright Protected. ALL RIGHTS ARE RESERVED.