A professional portfolio is an organized collection of important documents that record and highlight your talents, skills, and education, and chronicles your professional path.
In addition to your resume, cover letter, and reference letters, a professional portfolio should also contain examples of projects, reports, articles, certificates, awards, publications, and other items that are integral to your career foundation.
A professional portfolio is an important part of a long-term career strategy. Creating and updating a portfolio requires an assessment and evaluation of your work history, professional aptitude, and accomplishments. A professional portfolio is a fundamental component of a polished professional image that will allow you to stand out on job interviews and meetings with supervisors, potential employers, and recruiters. It provides proof or examples of your work to others while also allowing you to remember forgotten achievements or recognize under-utilized competencies.
A professional portfolio is uniquely you. No one has the exact same skills, education, or employment history that you have. It allows you to focus on yourself as a complete individual, not just as an employee. This process of self-evaluation leads to greater self-awareness. Self-awareness leads to personal and professional clarity. Clarity can uncover the desire to stay the course, the option to carve out a new path, and any areas for growth. Clarity is the starting point for success.
A well-planned professional portfolio is completed through organization, attention to detail, and focused decision making. Investing time in portfolio development allows you to define success on your own terms, establish a clear career road map, and take strategic action to GET PROMOTED to the job of your dreams. A professional portfolio is a living product that is best reviewed and/or updated quarterly.
GET PROMOTED Group Coaching Program is specifically for women in mid-level management. During our 6-week virtual program, we will combine career portfolios and the support of our new sister circle for an unbeatable career development strategy. Give yourself the gift of career advancement this holiday season. No need to wait until January to work on your career goals.
GET PROMOTED begins on Monday, December 9, 2019.You don't have to do this "management thing" alone. Let's end 2019 making strategic progress to launch successfully into 2020!
GET PROMOTED Group Coaching Program offers:
Convenience of a virtual group coaching program
Support and Accountability [of like-minded professional women]
Biweekly Group Calls
Tailored Growth Assignments
Access to Resources
Special Coaching Hot Seats
Don't miss the opportunity to join other mid-level women leaders who understand you and the joys and frustration of your role. I want to help you design your unique career path. Registration is only open to 8 women. Join our winning virtual circle from any place in the world.
Register for the Cyber Monday deal HERE.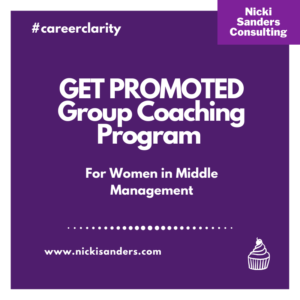 Nicki Sanders, MSW, is a travel and cupcake lover with a passion for self-discovery and career advancement. She has an extensive background in developing and managing multi-disciplinary teams and successful internship programs. She is an accomplished supervisor, professor, coach, trainer, and group facilitator who has merged her Master of Social Work degree and 20 years of diverse work experience into a thriving business. Nicki Sanders Consulting helps businesses increase employee recruitment and retention and helps women in mid-level management develop the confidence, competence, and credibility to lead with bold authenticity.
© 2019 Copyright Protected. ALL RIGHTS ARE RESERVED.