The day is near!
13th Annual Pack A Purse Drive™
November 1, 2019 – December 3, 2019
We collected purses (totes and other handbags) filled with personal hygiene items for teen girls in foster homes, group homes, and homeless shelters. The personal hygiene items we requested aretoothbrushes, toothpaste, mouthwash, deodorant, lotion, soap, and individually wrapped feminine hygiene items. We also accepted lip gloss, shampoo, conditioner and hand sanitizer.
Are you ready to drop off donations and/or volunteer for our Pack A Purse Drive™?
Annual Purse Packing Party
Volunteers are needed to help us inspect, sort, fill, count, and pack purses. We also need volunteers to help set up and clean up. Children and families are welcomed. Volunteer delivery drivers also needed.
Saturday, December 7, 2019
2:00pm-4:00pm
Ridgely's Run Community Center
8400 Mission Road
Jessup, MD 20794
INVITED: Volunteers Needed and Welcomed!!
NEEDED: Large holiday bags also needed for delivery.
REMINDER: No shoes, razors, food, candy, or used clothing accepted!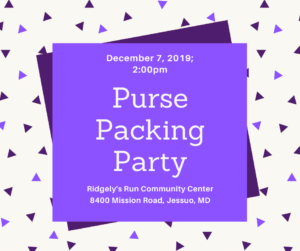 Nicki Sanders, MSW, is a travel and cupcake lover with a passion for self-discovery and career advancement. She has an extensive background in developing and managing multi-disciplinary teams and successful internship programs. She is an accomplished supervisor, professor, coach, trainer, and group facilitator who has merged her Master of Social Work degree and 20 years of diverse work experience into a thriving business. Nicki Sanders Consulting helps businesses increase employee recruitment and retention and helps women in mid-level management develop the confidence, competence, and credibility to lead with bold authenticity.
© 2019 Copyright Protected. ALL RIGHTS ARE RESERVED.