Have you ever struggled with when to hold back and when to exert authority?
Are you the one to take a little more of the blame and a little less of the credit?
Are you leading from the middle?
Mid-level managers must understand and translate the vision and desires of upper management. They are also tasked with oversight of day to day operations and activities. This constant duality of taking the lead while following the leader can be overwhelming. Strong mid-level managers lead through influence and collaboration, they don't intimidate or manipulate. Strong mid-level managers also contribute to the development of the company.
As a Management Coach, my purpose is to provide women in mid-level management with the tools and techniques to improve their leadership skills and position themselves for their next level.
A professional portfolio is an invaluable way to leverage your assets on the quest to Get Promoted. Your professional achievements, recommendations, and commendations can all be stored in a professional portfolio. A portfolio is the tangible evidence of what you have done and also establishes the groundwork for what you plan to do in the future. A portfolio is your career compass.
This individualized collection of degrees, certifications, professional development, work samples, and awards will show employers and potential employers that you take your career seriously and are ready for advancement.
The process of selecting contents for your portfolio allows managers to discover their strengths, record their achievements, and create a long-term career plan. Here are 7 reasons every mid-level manager needs a professional portfolio:
1. Self-Assessment – evaluate work, education, and service history
2. Clarity – connect interests, knowledge, and resources
3. Organization – document evidence of skills, abilities, and professional experience
4. Strategy – determine plans and processes to reach career goals
5. Branding – representation of values and commitment to personal and professional development
6. Advantage – less common and more comprehensive than a standard resume and cover letter so you stand out
7. Communication – guide interview and promotion discussions
Creating a portfolio will reveal to you your assets and abilities and confirm that you are ready to step fully into your potential.
Article originally appeared on my LinkedIn.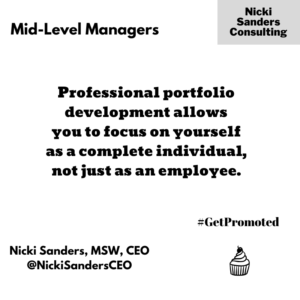 Nicki Sanders, MSW, CEO is a travel and cupcake lover with a passion for self-discovery and career advancement. She has an extensive background in developing and managing multi-disciplinary teams and successful internship programs. She is an accomplished supervisor, professor, coach, trainer, and group facilitator who has merged her Master of Social Work degree and 20 years of diverse work experience into a thriving business.  Nicki Sanders Consulting helps businesses increase employee recruitment and retention and helps women in mid-level management develop the confidence, competence, and credibility to lead with bold authenticity.
© 2019 Copyright Protected. ALL RIGHTS ARE RESERVED.