Have you recently been passed over for a promotion?
Have you considered applying for a promotion but you're unsure if you're ready to accept the challenge?
Many people dream of a position with a higher salary or more power but are unsure how to turn that dream into reality. Gone are the days when you will be promoted simply for arriving to work on time, completing your tasks, and not taking too many vacation days. Good enough is no longer good enough if you want to advance in your career. Strategic planning and actions are required to build the career of your dreams.
We are often warned what not to do if we want to be seen as a rock star employee so today, I want to discuss what to do to become more promotable. Careers are not one size fits all. It is important to note that what is praised or expected in one company may be frowned upon in another. Different managers within the same company may even have different expectations. Rule number one is to learn the culture and expectations of your employer and supervisor.
5 Ways to Become More Promotable:
Collaborate – Be a team player! You have heard the phrase "there is no 'I' in team and I'm here to remind you not to be a one-woman show. Your technical skills may get you the job, but your interpersonal skills will get you the promotion. Employees who cause conflict and create office drama are a distraction and likely will not be candidates for promotions. Find meaningful ways to collaborate and get along with your colleagues and supervisor if you want to get promoted.
Take Initiative – Taking initiative means doing more than what is on your job description. It means thinking critically, planning ahead, and not always waiting to be told what to do. When you see a problem offer a solution or solve it if possible. This is how you build credibility. Your supervisor will see that you take pride in your work because you care about both your job and your employer.
Be More Visible – If you are the best kept secret no one will know that you want to be promoted or that you are able to take on higher level work. Make your accomplishments, ideas and desire known without being cocky or demeaning. If you have a track record of achievement, your name is more likely to be on the list of the employees considered for promotions.
Document Your Achievements – Develop a career portfolio. A portfolio is the tangible evidence of what you have done. This collection of references, degrees, certifications, continuing education, work samples, and awards will show your employer that you take your career seriously and are ready to get promoted
Communicate Your Accomplishments – A portfolio gives you a competitive advantage. It is a visual representation of your accomplishments that will help you explain your skills, abilities, and experiences for concretely during interviews and performance reviews. Since many employees and job seekers do not have a portfolio you will stand out from the competition.
It's time to show up for yourself!
GET PROMOTED Group Coaching Program is specifically for women in mid-level management. During our 6-week program, we will combine career portfolios and the support of our new sister circle for an unbeatable career development strategy. Give yourself the gift of career advancement this holiday season. No need to wait until January to work on your career goals.
GET PROMOTED launches TODAY – Monday, December 9, 2019.You don't have to do this "management thing" alone. Let's end 2019 making strategic progress to launch successfully into 2020!
GET PROMOTED Group Coaching Program offers:
Support and Accountability [of like-minded professional women]
Biweekly Group Calls
Tailored Growth Assignments
Access to Resources
Special Coaching Hot Seats
Don't miss the opportunity to join other mid-level women leaders who understand you and the joys and frustration of your role. I want to help you design your unique career path. Registration is only open to 8 women. Join our winning circle.
Today is your last chance to join! Register HERE.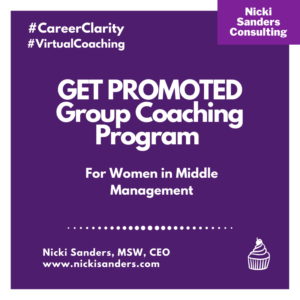 Nicki Sanders, MSW, is a travel and cupcake lover with a passion for self-discovery and career advancement. She has an extensive background in developing and managing multi-disciplinary teams and successful internship programs. She is an accomplished supervisor, professor, coach, trainer, and group facilitator who has merged her Master of Social Work degree and 20 years of diverse work experience into a thriving business. Nicki Sanders Consulting helps businesses increase employee recruitment and retention and helps women in mid-level management develop the confidence, competence, and credibility to lead with bold authenticity.
© 2019 Copyright Protected. ALL RIGHTS ARE RESERVED.