Management is complex. Depending on size and function, an organization can have different levels of a management hierarchy with many different managers, across many different titles, and with varying levels of authority,
Traditionally, there are three levels of management typically found in an organization – lower-level management, middle-level management, and top-level management. Top-level managers or executives are responsible for controlling and overseeing the entire organization.
Business Dictionary online defines a middle manager as "an employee of an organization or business who manages at least one subordinate level of managers, and reports to a higher level of managers within the organization. It describes the duties of a middle manager as "carrying out the strategic directives of upper-level managers at the operational level, supervising subordinate manages and employees to ensure smooth functioning of the enterprise".
Middle management is a semi-executive position. The mid-level manager is the intermediate management level of a hierarchical organization. The responsibility for executing organizational strategies which comply with the company's mission and policies lies here – below top-level management and above front-line managers.
Middle managers are central to the successful implementation of policies drafted by senior management. In top performing companies, mid-level managers are included in creating the policies they must enforce or execute. This position in the middle can be a difficult one to excel in. The success of a mid-level manager is directly tied to their ability to influence and collaborate with others at all levels of the organization. They must be skilled at managing up (engagement with senior management) and leading up (engagement with subordinates).
Mid-level management can mean different things at different companies. In many organizations, a mid-level manager is typically accountable for controlling and overseeing a department or branch. The front-line managers focus on controlling and directing workers while the mid-level manager is responsible for supervising and 'team leading' the front-line managers. In this type of company, middle management is indirectly responsible for junior staff performance and productivity.
To sum it up more simply, middle managers are supervisors with supervisors. Their job titles may include Assistant Director, Assistant Principal, General Manager, Program Manager, Plant Manager, Regional Manager, Branch Manager, Division Chief, Program Director, Deputy Director, or Production Supervisor to name a few. Regardless of their title, mid-level managers play a key role in organizational efficiency and profitability and require ongoing support and training to excel.
I am Career Strategist and Management Coach who prepares women in mid-level management to develop the confidence, competence, and credibility to lead with authenticity and boldness.
Ambitious women managers, please check out my Bold Authenticity monthly workshops, individual coaching sessions, and my Get Promoted Group Coaching Program to get the support and training you need to excel now and in the future.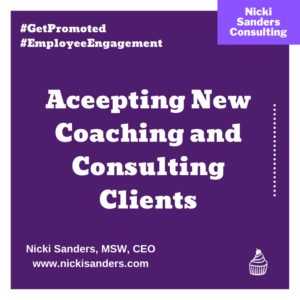 Nicki Sanders, MSW, is a travel and cupcake lover with a passion for self-discovery and career advancement. She has an extensive background in developing and managing multi-disciplinary teams and successful internship programs. She is an accomplished supervisor, professor, coach, trainer, and group facilitator who has merged her Master of Social Work degree and 20 years of diverse work experience into a thriving business. Nicki Sanders Consulting helps businesses increase employee recruitment and retention and helps women in mid-level management develop the confidence, competence, and credibility to lead with bold authenticity.
© 2019 Copyright Protected. ALL RIGHTS ARE RESERVED.