Run…don't walk to the theater to see Disney's The Little Mermaid.
It was one of my daughter's favorite Disney animated movies. I was excited to see a Black woman as  Ariel and even became adamant about seeing the movie opening weekend when Disney and Halle received so much backlash.
I would have loved for Eric to be a Black man (Disney, we need a Black prince), but the diversity and updated message in the movie were beautiful. Race is always a factor in America, and that is another reason that humankind needs to see this movie.
Like Aladdin, it didn't disappoint.
Like Black Panther, it will be an amazing cultural classic.
Ms. Halle Bailey IS The Little Mermaid!
Her voice, her smile, her energy…perfect. This role seems like it was written just for her because she so naturally became Ariel.
I loved it so much that I'm telling you about it!!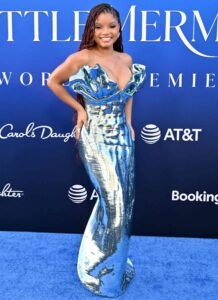 Nicki Sanders, MSW, supports high-performing women of color in social work leadership in developing careers that feed their hearts, minds, and wallets. As Founder and CEO of Nicki Sanders Leadership Consulting, her mission is simple – to eliminate toxic workplaces by developing skilled, empathetic, and goal-oriented leaders who have the vision, support, and resources to create a culture where business prospers, and employees thrive individually and collectively. Nicki has an extensive background in nonprofit management leading high-functioning, multi-disciplinary teams, volunteer recruitment and retention, and social impact programming. She is an accomplished professor, coach, trainer, and group facilitator who has combined her gift for authentic relationships, Master of Social Work degree, and over 20 years of diverse work experience to create a life and career aligned with her values and purpose. Nicki is a lover of cupcakes, travel, and 80's hip hop and R&B music.
© 2023 Copyright Protected. ALL RIGHTS ARE RESERVED.