How May I Help You?
Internship Consulting
A strong internship program will allow you to increase your productivity and profits while giving back to your community. I have recruited, trained, supervised and mentored interns from a dozen institutions and academic disciplines. I have created a 10-step internship program development system which is customizable to meet the unique needs of each of my clients and includes a completed internship manual. Program management services, which includes hiring, onboarding, management, and program evaluation are also offered through Packaged For Success. I can help you launch your internship program on a solid foundation and develop it into a program that is effective, efficient, and sustainable.
Organizational Consulting
A respected professional who has coordinated, led, and managed teams of diverse individuals to produce positive outcomes and meet deadlines. Documented experience in finding viable solutions to problems in a flexible, time-sensitive, and creative manner. Skilled trainer and workshop facilitator with knowledge of social work professional standards and ethics as well as current research and best practices on employee recruitment and retention, leadership development, and human relations.
Coaching/Career Strategy
I am an undergraduate Adjunct Professor who has recruited, trained, supervised and mentored dozens of millennial staff and volunteers in the last decade.  In addition, I have also managed Generation X staff with advanced degrees and successfully navigated the challenges of multiple generations in in the workplace. My services for both emerging and seasoned professionals includes career planning, resume and cover letter assistance, interview preparation, portfolio development, and strategies to build a successful career. Entrepreneurship is also a career field and I assist entrepreneurs discover their unique talents and skills. Confidence, competence, and credentials are the three pillars in my career development plan.
Social Work/Community Outreach
Packaged For Success raises awareness about the needs of teens in foster care in two unique ways – our annual Pack A Backpack™ Drive and our annual Pack A Purse™ Drive. If you are interested in social work or community outreach such as launching a community or service project, starting a nonprofit organization, growing a nonprofit organization, or professional development for your nonprofit staff or interns I have over 20 years of experience in human services and the nonprofit sector. My Master's degree in Social Work with an academic concentration in Social Action and Community Development coupled with my specialization in Social Action and Community Development, has fully me prepared to address the various needs of communities and disenfranchised individuals through analysis, strategic planning, and program development and management
How To Work With Nicki Sanders
I would love to work with you on your academic, career, nonprofit, or personal growth. Please complete the contact form below for a free twenty-minute strategy session.
[contact-form-7 404 "Not Found"]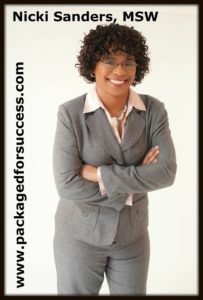 Nicki Sanders, MSW, is a cupcake lover with a passion for self-discovery and career development. She has a strong background in developing and managing interns and successful internship programs. She is an accomplished manager, professor, coach, trainer, and group facilitator who has packaged her Master of Social Work degree and 20 years of diverse work experience into Packaged For Success, a full service training and professional development company.
© 2018 Copyright Protected. ALL RIGHTS ARE RESERVED.