I called a nationally syndicated radio show yesterday – but no one answered.
I am not the type of person to call a radio station – not even to win prizes. I have called a radio station 3 times in my adult life and each time it was because what I heard angered or upset me. Of course, I don't agree with everything I read or hear on TV or on the radio and I can respect differences of opinion. I called the stations when I felt what was being said was not factual or was harmful to the general public.
Maternal and child health is important to me. I called the Yolanda Adams Morning Show years ago when a caller shared misinformation about pregnancy. I managed a primary and secondary teen pregnancy prevention and reproductive health programs for over a decade. Did you know that I also considered becoming a midwife after giving birth to my daughter? I dipped my foot in that world decades ago and haven't fully removed it. The maternal death rates and infant mortality rates for Black women (the primary listening audience) was too high for me to ignore the foolishness that I heard. No one answered so I left a comment on the show's Facebook page.
Years ago I called a local Washington, DC radio station about a disrespectful and stereotypical comment made by a local radio personality. That one made me angry. I spoke to the station manager who investigated my claim and addressed the issue to my satisfaction.
Today I called The Nightly Spirit show with Darlene McCoy to debunk the myth that unemployment benefits and stimulus checks are the reason that employees are not going back to work. As a working mother, career strategist, human services professional, entrepreneur, and college professor, I can tell you that if someone is making more money with unemployment than they were working a job the problem is their low wages, not the benefits. There are so many jobs that we do not value in the United States and this pandemic has redefined what is truly an "essential worker". We've also pushed college as the only acceptable option after high school and are now blaming stimulus checks for teens not wanting to become dishwashers, food servers, and factory workers. Women have exited the workforce during this pandemic in droves. There are many issues preventing women from returning to the workforce including care for children and sick or elderly relatives, time to reflect on the things that are most important, deciding not to return to a toxic work environment, starting their own businesses, fear for the health and safety of themselves and their families, and I could go on and on. No one answered the phone and the Instagram for the radio show is not current. What is my solution? This blog post and the numerous articles on the subject that I will be sharing on social media over the next couple of weeks.
The post pandemic economy and employee shortage are complex issues that deserve more than angry soundbites from people who believe that certain segments of the population are lazy and don't want to work because they have been pacified by free government money.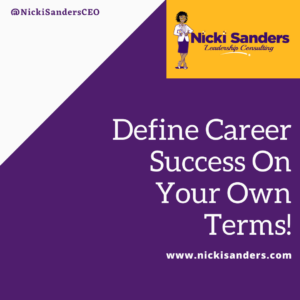 Nicki Sanders, MSW, CEO, is a Career and Empowerment Strategist who helps high-performing women of color in management go from overworked, underpaid, and unappreciated to energized, well paid, and appreciated. Through Nicki Sanders Leadership Consulting, she also helps businesses recruit, hire, train, and retain great employees. Nicki has an extensive background in developing and managing successful programs and leading high-functioning multi-disciplinary teams. She is an accomplished professor, coach, trainer, and group facilitator who has combined her gift for authentic relationships, Master of Social Work degree, and over 20 years of diverse work experience to create a life she loves. Nicki is a lover of cupcakes, travel, and 80's hip hop and R&B music.
© 2021 Copyright Protected. ALL RIGHTS ARE RESERVED.