My word for 2021 is Completion…because I am great at starting, but not always great at finishing. I am full of great ideas. #strengthsbased
For Career Tip Tuesday with Nicki Sanders yesterday my tip was 'Get It Done' as in completion. In the segment yesterday, I shared that it was the final day of my 7 Day Uplevel Your Position Career Development Course. I'm proud of myself and my course attendees for our collective completion. It was a great feeling. You can check out yesterday's video HERE.
Now TODAY…
Whew chile, it is day 12 of a 31-day challenge. I have blogged every day of the Ultimate Blog Challenge but not posted with the hashtag or commented on other blogs each day. I'm not giving up. Remember The Little Engine that Could? The story about a little train engine who, through the power of belief completed a seemingly impossible task? Well, that's me today…reminding and encouraging myself. "I Think I Can." "I Think I Can." #completion
Today I am reminding myself that I am going to complete at least one part of the challenge which is to blog every day this month. I will not lose focus or get distracted by other tasks and projects. this is my commitment to myself. This is my blog for today. #itisdone
Oh, and I am accepting blog subject recommendations.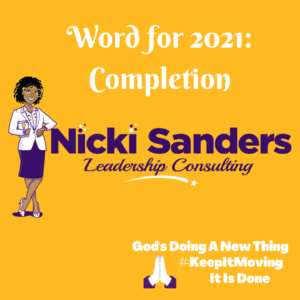 Nicki Sanders, MSW, CEO, is a Career and Empowerment Strategist who helps high-performing women of color in management go from overworked, underpaid, and unappreciated to energized, well paid, and appreciated. Through Nicki Sanders Leadership Consulting, she also helps businesses recruit, hire, train, and retain great employees. Nicki has an extensive background in developing and managing successful programs and leading high-functioning multi-disciplinary teams. She is an accomplished professor, coach, trainer, and group facilitator who has combined her gift for authentic relationships, Master of Social Work degree, and over 20 years of diverse work experience to create a life she loves. Nicki is a lover of cupcakes, travel, and 80's hip hop and R&B music.
© 2021 Copyright Protected. ALL RIGHTS ARE RESERVED.