Remember my word of the year for 2021?!
COMPLETION!!
I Did It. I Made It! I'm Done!
I Completed The Ultimate Blog Challenge!
I blogged every day for the entire month of May. Despite mishaps and distractions I did it.
Yep, 31 days of new blog posts and this is the final post. Feel free to check out them all. And tell a friend!
"Starting strong is good. Finishing strong is epic." – Robin Sharma
You know I love music so I am celebrating this entrepreneurial accomplishment with a new playlist. #completion
I Made It – Fantasia
2. Celebration – Kool & the Gang
3. Happy – Pharrell
4. Break My Stride – Matthew Wilder
5. Strong Finish – Jonathan Nelson
"The life of a winner is the result of an unswerving commitment to a never-ending process of self-completion." -Terry Bradshaw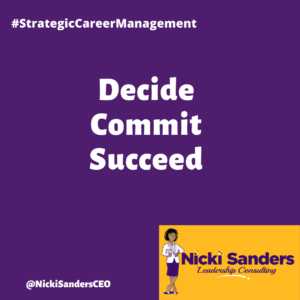 Nicki Sanders, MSW, CEO, is a Career and Empowerment Strategist who helps high-performing women of color in management go from overworked, underpaid, and unappreciated to energized, well paid, and appreciated. Through Nicki Sanders Leadership Consulting, she also helps businesses recruit, hire, train, and retain great employees. Nicki has an extensive background in developing and managing successful programs and leading high-functioning multi-disciplinary teams. She is an accomplished professor, coach, trainer, and group facilitator who has combined her gift for authentic relationships, Master of Social Work degree, and over 20 years of diverse work experience to create a life she loves. Nicki is a lover of cupcakes, travel, and 80's hip hop and R&B music.
© 2021 Copyright Protected. ALL RIGHTS ARE RESERVED.