TODAY is the last day to support Pack A Backpack™ Drive 2021
Most young people are unprepared to live on their own as soon as they turn 18, yet here in the United States, more than 23,000 youth age out of foster care annually and are left to fend for themselves. Youth in foster care are seven times more likely than non-foster youth to have depression, and five times more likely to have anxiety. One out of every two foster youth has dealt with four or more Adverse Childhood Experiences.
Over 25,600 foster youth spend more than five years in foster care. Exiting foster care without achieving permanence/being connected to a forever family often has lifelong consequences. Youth who age out of foster care face are more likely to experience homelessness, joblessness, early parenthood and substance use.
Pack A Backpack™ Drive: April 30, 2021 – May 30, 2021
We want to collect 50 NEW backpacks, duffel bags, drawstring bags, knapsacks for teen males in foster homes, group homes, and homeless shelters filled with the following NEW personal hygiene items.
Toothbrush
Toothpaste
Mouthwash
Deodorant
Lotion
Soap
The 5 agencies we want to support are:
Hearts & Homes for Youth
Sasha Bruce Youthwork
Prince George's County Department of Social Services Independent Living Program
WIN Family Services
National Center for Children and Families
You may use PayPal to make a financial contribution.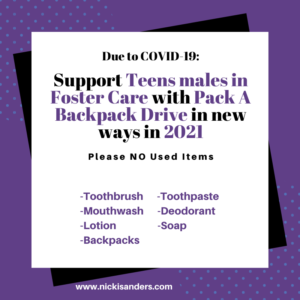 Nicki Sanders, MSW, CEO, is a Career and Empowerment Strategist who helps high-performing women of color in management go from overworked, underpaid, and unappreciated to energized, well paid, and appreciated. Through Nicki Sanders Leadership Consulting, she also helps businesses recruit, hire, train, and retain great employees. Nicki has an extensive background in developing and managing successful programs and leading high-functioning multi-disciplinary teams. She is an accomplished professor, coach, trainer, and group facilitator who has combined her gift for authentic relationships, Master of Social Work degree, and over 20 years of diverse work experience to create a life she loves. Nicki is a lover of cupcakes, travel, and 80's hip hop and R&B music.
© 2021 Copyright Protected. ALL RIGHTS ARE RESERVED.