What do our movie preferences say about us?
My favorite movie is Krush Groove – New Edition, LL Cool J, and Run DMC will forever have a special place in my heart.
The country girl in me loves Baby Boom and For Richer or Poorer.
I have lost track of how many times I've seen Kindergarten Cop and The Pacifier.
I loved Black Panther but never would have went to see it on my own.
I consider Love and Basketball and The Best Man classics.
I have enjoyed each original and sequel to Olympus Has Fallen and Bad Boys.
Have you figured me out yet LOL?
I am not the average action movie fan; however, I absolutely LOVE the Fast and Furious series. I took my daughter and nephew to the movies to see part 4 and was hooked. I was so excited for part 5 that I rented 1-3 to ensure I was up to date. I have eagerly awaited each sequel. All movies in the series aren't created equal, but I will not be dissuaded. I have the series on DVR but have also watched each episode on cable countless times. Yes, I even watch them with commercials. I haven't quite figured out what is driving my fascination, but I am counting down the months until number 9 hits the theaters this spring.
Careers are individual journeys. Through my Strategic Career Management services, I can support you as you grow your career and strengthen your professional skills. I offer career coaching for each stage of the career process!
(1) Clarity – Career Acceleration – Helping you grow from job to career or front line staff to manager
(2) Credibility – Career Development – Services to support you as you climb the career ladder
(3) Cultivation – Career Expansion – Long-term growth and sustainability assistance to ensure that your career fits your life
Yes, I will be there through your career sequels. This is an invitation to become a Fast and Furious (type) client.
Are you unsure of your starting line?
My Career Acceleration Strategy Session allows you 60 minutes of uninterrupted time with me to accelerate your career. You and I will work together to generate ideas and creative solutions to your employment questions, issues or situations while developing customized strategies to help you reach your career goals. Schedule your Career Strategy Session to gain insider insight from a hiring manager and professor. This Career Strategy Session is your unique opportunity to brainstorm career advice and consider new perspectives to get unstuck, up your game, and welcome a new cheerleader to your career acceleration team. The regular investment is $297, but to celebrate Valentine's Day, you can gift yourself a Career Acceleration Strategy Session for the investment of $149 through February 14, 2020.
You can win but only if you get into the race!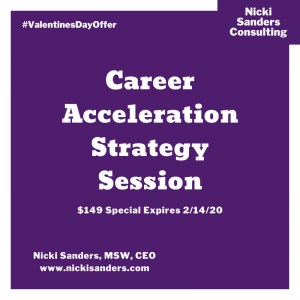 Nicki Sanders, MSW, CEO, is a travel and cupcake lover with an aptitude for authentic connection and career acceleration. She has an extensive background in developing and managing successful programs and leading high-functioning multi-disciplinary teams. She is an accomplished professor, coach, trainer, and group facilitator who has merged her Master of Social Work degree and over 20 years of diverse work experience into a thriving business. Nicki Sanders Leadership Consulting helps businesses recruit and retain the best employees and helps women in mid-level management Get Promoted to the job of their dreams.
© 2020 Copyright Protected. ALL RIGHTS ARE RESERVED.