"Stop asking people for directions who have never been where you're going."
An NFL team is unlikely to make it to the Super Bowl with an NBA or NHL coach. The two top NFL teams who competed in the Super Bowl had winning coaches who created great plays and experienced players who executed those plays. Those two teams endured wins and losses, challenges and triumphs on their way to the big game.
Guesswork won't win the Super Bowl. A long-term, successful career requires information, resources, and strategy. If you want to accelerate your career, you need a strategy. If you want to win the career Super Bowl, you need a strategy.
5 Reasons You Need A Game Plan to Get Promoted:
Globalization – There are people from all over the world competing for jobs right in your back yard
Branding – Multiple generations in the workplace increase the need for visibility and credibility
Customization – Resumes and cover letter should be tailored to each job individually
Hidden Job Market – Less than half of all job vacancies are advertised
Culture – The days when most employers and recruiters expect decades of company loyalty are over
I've built the career I envisioned, thrived in the job of my dreams, and created the brand of Nicki to avoid being stuck in the shadows of my employers. My Valentine's Day gift to you is 60 minutes of my education, skills, and experience wrapped up in a Career Acceleration Strategy Session to focus on helping you build a successful. We challenge the status quo, brainstorm, and limit any previously held limitations to create the game plan to help you reach your career goals.
The regular investment is $297 but in honor of Valentine's Day, you can gift yourself a Career Acceleration Strategy Session for the investment of $149 through February 14, 2020. A great career lasts a lot longer than red roses. REGISTER on my website.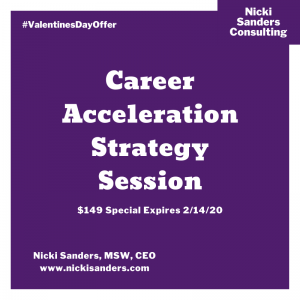 Nicki Sanders, MSW, CEO, is a travel and cupcake lover with an aptitude for authentic connection and career acceleration. She has an extensive background in developing and managing successful programs and leading high-functioning multi-disciplinary teams. She is an accomplished professor, coach, trainer, and group facilitator who has merged her Master of Social Work degree and over 20 years of diverse work experience into a thriving business. Nicki Sanders Leadership Consulting helps businesses recruit and retain the best employees and helps women in mid-level management Get Promoted to the job of their dreams.
© 2020 Copyright Protected. ALL RIGHTS ARE RESERVED.